AHN soccer on its way to Districts
Gaby Ruiz, Junior Staff Writer
January 14, 2014
Academy's soccer team has had an unbelievable season this year. Not only is their record 13-1, they're also on their way to districts! The girls have been working hard, making each other and their coach, proud.
This year's team is very united and leaves their all on the field every game. Besides their loss to St. Pete Catholic, the girls have been undefeated.
Freshmen Hannah Menendez has had an amazing season, "Being on the Academy's soccer team has been a great experience by meeting new friends and developing as a soccer player." Hannah has a strong feeling that they will succeed in districts and when asked how she would describe the season in one word, she chose, "Unbelievable".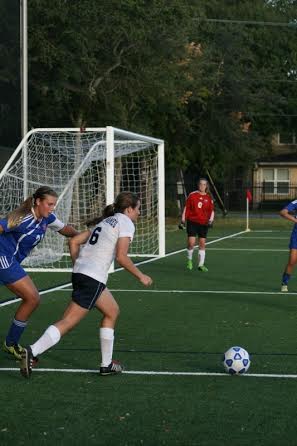 Junior Julia Metzger has been on the team since freshman year and says, "The team is constantly improving, [and] I can't wait to be a senior on the team next year to see how much we succeed, and what's to come for us."
With constant practicing and playing the girls have all gotten to know each others strengths and weaknesses and know how to pick each other up when they need it most, something all AHN girls succeed in.
The team is ready for districts and is going in with a positive attitude and hope to continue on their winning streak. Good luck girls!