Track girls share hopes and dreams for 2014
Academy of the Holy Names' track team is known for producing stars. Just last year, Ryann MacEnany was one of the stars of the team. Currently she runs on the University of Florida track team. That was a dream of hers that she made reality, and this year's girls continue to have hopes and dreams they aspire to make come true. Track season officially begins in January, but the girls know they have to attend summer camps and even sometimes go to cross country team practices to keep their body in shape. Each member of the team sets personal goals to improve, and their Coach Simone helps them reach those goals by their almost daily practices.
Two long standing members of the team are Claire Snyder and Melissa Mainzer. Both of these seniors add a positive energy and always mostivate the rest of the team to do better. Through many wins, these girls know how what it takes to get to the top, but they still have hopes and dreams to improve even more.
Claire has been running ever since the 6th grade. Before she solely focused on running, Claire played soccer Tampa Prep in middle school and for a club team called Tampa Knights. Claire's father, David Snyder, was in the Air Force for 29 years so that is where she developed some of her passion for soccer and running. Alongside her father, Claire's mother, Tammy Snyder, loves to run so much she has run marathons and currently wakes up every morning at 5am for a run! Not only does Claire run track, but she competes on the Academy of the Holy Names Cross Country team. She is a star on both teams but prefers Cross Country because of the "longer distance and it is a change of scenery, instead of running laps around a track".
Claire believes, "The longer the distance the better". In track she runs the 1600m, 3200m, 800m, and 4 by 800 relay. This year Claire aims to break five minutes in the mile and 11 minutes in the two mile! Reaching this goal will not happen without a lot of work. Claire has prepared for this season by going to a camp called All American Country Camp. This is a week long camp in Ashville, North Carolina that the cross country team annually attends. She loves this camp because "the cross country team is super close, like one big family. Spending time with the team is always fun."
For Melissa Mainzer, "Last season was great!". Even though she ended it with an ankle injury, she managed to come through with multiple medals.
Melissa reminisced about the State Championships, "It ended with a medal in the 4 by 800 meter race at States. I met my goal time, running a 2:25."
Reaching that goal was not a walk in the park. As part of the track team, Melissa practices almost every day of the week at either Academy or our brother school, Jesuit. This sport includes some of the most strenuous practices, but Melissa, "loves it because it all is worth it in the end". This season, Melissa "hopes to improve ore and more and make it to states in the open 800 meter race". She has been training since last season by "lifting weights and running at many of the cross country practices" (to improve her stamina). This season Melissa feels "more prepared than ever" and her times will improve due to all her hard work.
Jazmyne McCloud is a Junior who not only runs track, but is a member of Jesuit's Varsity Cheerleading team. Many of the girls who solely run track have a difficult time managing track and school work, but Jazmyne has to add on multiple cheer practices, games, and appearances to that mix. She balances school by, "making priorities and setting goals for myself." Speaking specifically of her dream board, she posts,"[The] times I want to run or inches I want to jump. When I reach this goal, I remove it from the board and add a new goal. This gives me motivation because[also] on the board I have names of different colleges I want to attend".
Since Jazmyne is a junior, this is her year to shine. She desires to stand out to colleges such as the University of Miami, Clemson University and Louisiana State University. When it comes time for acceptance letters senior year, Jazmyne will "remove the names of colleges from the board".
Opposite from many others, one motivator Jazmyne has is feeling tired. She believes that, "When you run you get tired, and I believe you cannot get any more tired, so you might as well push through it and give it your all".
Coaches have preached to Jazmyne that 'it is all in the mind'. One of the things being on the Academy track team has taught her is that, "Procrastination is my weakness, I have to always keep track of what I am doing and when I am doing it".  Jazmyne is a prime example of how determined and accomplished the girls are at Academy. 
Academy of the Holy names track team features the top athletes in the county. Through all the tough circumstances, these student athletes always come out on top. The track team has many fans looking forward to see how the girls accomplish their hopes and dreams in 2014.
Leave a Comment
About the Contributor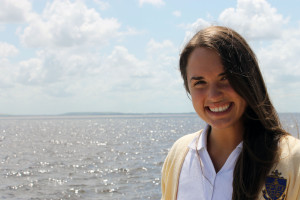 Hannah Hancock, Senior Staff Writer
Hannah Hancock has attended the Academy of the Holy Names for four years. She enjoys dancing, wakeboarding, cheerleading, tanning, and shopping. Hannah...