Varsity Volleyball: The pressure is on
The Varsity Volleyball team won their district championship last year and were a game away from making it to States. They dedicated most of their summer to improving their techniques by attending numerous specialty camps. One of the camps that the team attended was The University of Tampa's Team Camp. This extensive camp had the team practicing for 9 hours a day for an entire week. The girls spent the week focusing on their individual positions.
After spending most of their summer practicing, the team is back and ready to compete! Although it is still early in the season, the team is facing a huge amount of pressure to surpass last year's accomplishments. The team lost two seniors last year but have adopted four new players. Two of the players are eighth graders, which is very rare to see on varsity teams.
Camryn Vogler, 8th grade starting player, says, "It's an honor being an 8th grader starting on a high school varsity team. I expected it to be very intimidating being the youngest on the team, but all the girls are so nice and welcoming. There is a certain amount of pressure I face to perform as well as my teammates, although I don't have the same level of experience."
Besides the two eighth graders, the team varies from freshmen to seniors. This past weekend Academy hosted its annual Invitational Tournament where the team placed third. For most teams placing third is an accomplishment, but for Academy it is a negative outcome with a positive learning experience. The team was expected to place first, but lost to opponents Tampa Prep and Bloomingdale. Between their success last year and their disappointment from the tournament, the team  is very motivated to have a successful season.
Team captain Rebecca Prossen explains, "I'm excited to see how the team will advance and improve over the course of the next three months. I have high expectations for what we can accomplish. I am disappointed that we placed third in our own tournament, but hopefully we can turn our disappointment into success against our future opponents. We put in a huge amount of time and energy improving our skills so hopefully that will be evident in our future games."
The team has several opportunities this season  to redeem themselves and they are expected to have a very successful season.
Varsity Volleyball Team 2014-2015:
Camryn Vogler (8th Grade)
Molly Fleming (8th Grade)
Vanessa Davila (9th Grade)
Katherine Pickard (9th Grade)
Kendall Bulliet (10th Grade)
Camille Opp (10th Grade)
Megan Przedpelski (10th Grade)
Avery Stanechewski (11th Grade)
Gabi Vivero (11th Grade)
Alex Perez (11th Grade)
Rebecca Prossen (12th Grade)
Courtney Vogler (12th Grade)
Erika Menendez (12th Grade)
Molly Rausch (12th Grade)
Coach-
Jeff Davis
Leave a Comment
About the Contributor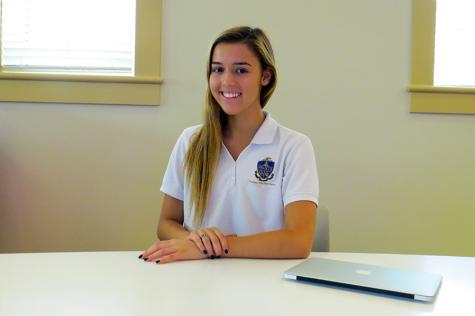 Isabella Gonzalez, Social Media Editor
Senior Isabella Gonzalez is Achona's social media edior. She is a member of Teen Leadership Council. Some of her favorite hobbies include eating and...