Courtney Vogler signs with Georgia
On Wednesday November 12, Senior Courtney Vogler officially signed with the University of Georgia to play volleyball. Not only did Courtney sign that day, but she also played in the state semi-finals with her team. After six years of hard work Courtney's dream to play in college finally came true.  This dream did not come easily; she had to work hard. Senior Rebecca Prossen has played all four years of high school with Courtney and commented on her progress: "Freshman year I remember being on the team and Jeff Davis brought Courtney from the JV team and put her on Varsity. We were all confused, because usually Jeff did not do this, but we all saw potential in her. In order for Courtney to be a starter she was really going to have to work hard, and that is exactly what she did. After working hard that season and for a season of club volleyball, Courtney came back with a huge amount of talent. Courtney has been working her butt off since day one to get where she is now."
Why volleyball?
"My height.  Everyone around me encouraged me to play because of how tall I was. Coaches especially approached me and asked if I was interested in playing because of my height advantage."
What was it about the sport that influenced you to give up modeling?
"Volleyball is very time consuming especially playing travel volleyball. It became to hard to juggle both modeling and volleyball so I made a decision."
What do you think about Kendall Jenner and other models that drop out of school to pursue their modeling careers?
"I believe it's very important to stay in school. Modeling might not always be there for you, but an education will."
Do you have anything to say about your team this year and their success?
"The team this year was a great group of girls and we all blended well together. We went to the state final four for this first time in 17 years which is quite an accomplishment. We defeated all our former rivals to reach our goal. We couldn't have done that without everyone being on the same page. They mean a lot to me for going so far and having their support through the entire season."
How does it feel to be committed to Georgia?
"It feels like a blessing. It's also relieving because the stress of where I'm going to college is over."
Why Georgia? 
"I chose Georgia because when I stepped on campus it felt like home. The current players and coaches were so welcoming; it made me realize that this is the place I want to go."
What did you have to do to get where you are?
"I had to spend endless amounts hours in the gym training. Since I started playing the game so late it was like a game of catch up. I also had to train outside the gym with plyometrics and weight training."
Who made all this possible?
"The people that made it possible are my parents, teammates and Jeff Davis. He had been my coach for the past four years and basically taught me everything I know. Without the support of my teammates and family, I wouldn't have been able to push myself to be the best I could be."


About the Contributor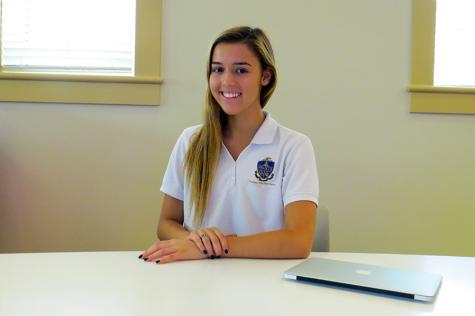 Isabella Gonzalez, Social Media Editor
Senior Isabella Gonzalez is Achona's social media edior. She is a member of Teen Leadership Council. Some of her favorite hobbies include eating and...