Seventh Grader Leads This Year's Golf Season
Returning from a great season last year, Academy's golf team had to start at square one. This year's most valued golf player was seventh grader Georgia Ruffolo. At such a young age, Georgia already has so much potential. During our interview, she expressed golf as being her last resort when it came to picking out a sport, but it is hard to believe considering all of her success! She has led this season ranking as the number one player with high school senior and captain, Bailey Boesch, in second.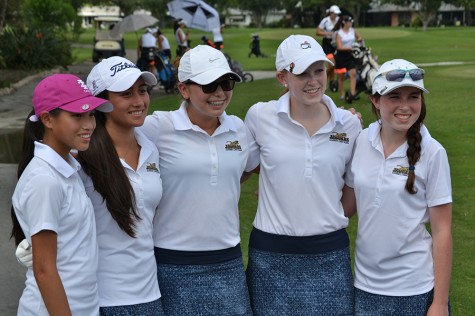 1. How old were you when you first started playing golf?
Boesch: My family has always played golf, but I didn't start practicing until my sophomore year.
Ruffolo: I started playing golf when I was eight, but I started tournaments when I was 10. So I started about two years ago.
2. About how many hours a week do you dedicate to playing and practicing golf?
Boesch: During the season we practice for about an hour every day and we have matches Tuesdays and Thursdays. We also play in a couple tournaments which take about five hours, but we get to miss school on those days so it's fun.
Ruffolo: I practice almost everyday. I have a lesson once a week and I play 18 on the weekends at my golf club with a caddie.
3. What do you love about golf?
Boesch: I love how you can be completely focused and totally forget everything that you are stressed or worried about. The snacks are pretty good, too!
Ruffolo: I love being able to travel the country and meet new people!
4. If you could pick one person who has influenced your passion for golf, who would it be?
Boesch: If I could pick one person, it would probably be my dad. He gets more excited for golf season than I do.
Ruffolo: My dad for sure. He played golf all the time and used to be really good. He's still pretty good, but I'm better! (Kidding!) He dedicated all of his time to me so I could get better and I am! Slowly, but surely.
5. Out of all the sports available to play, why did you pick golf?
Boesch: Freshman and sophomore year I played volleyball and then junior year I took a lot of AP [classes] but still wanted to play a sport. I had always golfed with my family and it was less of a time commitment.
Ruffolo: I picked golf because I was REALLY bad at everything else. I tried soccer, swimming, and basketball. Golf was my last option. I did small clinics down by the air force base. That clinic was what really got me liking golf.
6. What was your favorite experience playing golf with Academy?
Boesch: I had the opportunity to meet and be teammates with a lot of underclass-women that I otherwise would not have met. We had a really great group of girls and it was fun to lead them as captain.
Ruffolo: Last year, the Academy golf team was the best of all of Hillsborough County. We were a force to be reckoned with. We won districts, regionals, and came sixth at states last year. But [the players] all graduated last year. Our number one player, Emmy Martin, was like my idol on the golf team! She was just so good. She got a full ride for golf at TCU. [Mariah Diaz] graduated valedictorian and went to Duke; [Casey Pluchino] went to SLU, and [Devin Lewis] went to Miami of Ohio. This year, we kind of had to start from square one. Last year I was this little sixth grader who was the fourth player. This year, I'm the first player on the team. I didn't care about winning though, I cared for the team. In my opinion we had a great team this year.
7. Is there anything else you'd like to add about your golf career?
Boesch: Well, one time I got a golf cart stuck in the mud. Mr. Kumka, our coach, and some of the dads had to push it out. It was pretty embarrassing, but we all laugh about it now.
Ruffolo: For my golf career I want to play college golf [at Duke, Penn State, or Florida], but I also want to go to medical school. If I end up going to med school, I want to be a dermatologist. Everyone says I can make it in the golf world; whether I'm playing golf and I'm on TV or I'm a commentator for golf channel. Whatever I end up being when I grow up, I want it to be right for me.
Best of luck to both Bailey Boesch and Georgia Ruffolo on the rest of their golf career!
Leave a Comment
About the Contributor
Anna De Guzman, Senior Staff Writer
Senior staff writer, Anna De Guzman, is a newbie to the world of journalism. As a first year writer, she hopes to accomplish all of two things: 1. Write...