Girls Tennis finishes the season strong in honor of their late sister, Sydney Wynne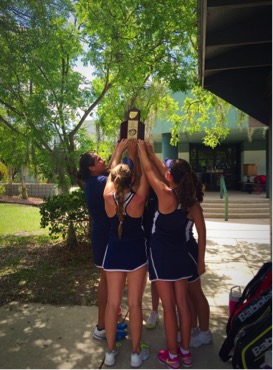 The Tennis Team won Districts for the sixth consecutive year this past season.  This is the first year that the girls swept districts, not losing a match. No player lost more than 2 games a set, which is incredibly difficult to accomplish. As a team, they advanced to Regionals, where they continued their winning streak. Without losing a match in singles or doubles, they moved on to the State Tournament.
The State Tournament was held in Altamonte Springs, Florida on April 15th and 16th.
AHN finished, as a team, in fifth place overall at the class 2A tournament.  Victories included Caroline Lozo (#1) and Caitlin Neal (#2) While, juniors Olivia Rivas (#3),Grayson Garraty (#4) and Maddie Bales (#5) lost very close first round matches.  Lozo advanced to the State Finals where her 6 year career ended against Rockledge.
This season was different. It was the first one in 3 years without our teammate, Sydney Wynne. To keep her close, we had the AHN logo on the shirt replaced with an S and W on both sides of a cross.  Whenever we felt down on ourselves, tired, or not willing to fight we looked down on our chest and knew Sydney was with us, we knew she was there and wanted us to fight. Words cannot describe the feeling each of us had every time we stepped onto the court. We no longer played for ourselves, but for the name on our shirt.  It was Sydney who helped us "fight" through the hard points.   When we would shout "fight" it meant that we had to dig deep to win. It meant that we needed to fight like it was our  last match,  but most importantly it meant that it was what Sydney would have done.  Sydney always fought and left behind a legacy of being undefeated her 2 years on the Varsity Team.  Every tough point, game, set or match ended with a tap on our right chest, where her initials are, to show her that we will not give up.
To honor our beloved teammate, the Jag Spirit Award has been replaced with the Sydney Wynne award.
We were so fortunate to have Mrs. Wynne come out and support us at the State Tournament. She told us if you ever see a feather around, it is Sydney watching over you.  So, look out for feathers because Sydney is looking out for you.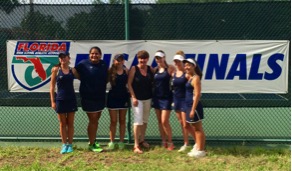 Go Jags!!