Academy Swim Team DIVES into new changes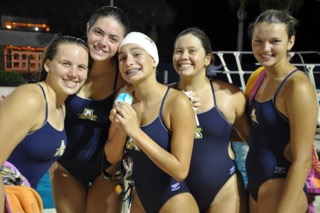 Due to the significant increase in the number of girls that joined the Academy swim team during these past few years, Academy swim coach, Bill Shaffer decided to divide the non-cut sport into two parts for the first time ever. The division consists of competitive and developmental teams, in order to help swimmers old and new. An advantage to this new program includes a one-on-one teaching style as compared to previous years.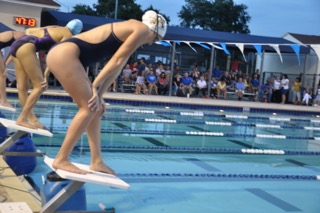 The only difference between the teams is the time these athletes practice in the pool. This division is not classifying the Academy sport as a cut-sport, rather, a way to introduce new swimmers, increase their potential and enhance the skills of those who have been swimming for a while.
Coach Shaffer believes some of the effects of this change will include "Allowing the more experienced swimmers to train harder and faster with less people in their lanes, but also, to give the less developed swimmers the opportunity of more attention from me, so that they can develop into our future." By giving developmental swimmers a separate practice from the competitors, coaches are able to analyze their strokes and help them improve.
Another reason for the change, Shaffer comments is that "last year, when we got to Districts, a couple of the girls I chose to go were not used to swimming so many events in one day. They needed the opportunity to practice more in dual meets or competition situations, and that led to reducing the numbers in practice at any given time so that everyone could get better." Since this sport is not a cut-sport, Shaffer admits he has found (throughout his many years of coaching Academy athletes) diamonds in the rough that may have not made it on the team if it were cut; he found potential in those who have never swam competitively before.
Practices started on August 5, 2015, twelve days before the official start of the 2015-2016 school year. It was apparent that the swimming lanes were filled to the brim with swimmers. With over twelve swimmers per lane, Academy, Jesuit and Academy Aquatic Club swimmers, it became a hazard and not efficient for the good of the team.
Lauren Sellers (10), who has been swimming for seven years in the competitive squad, told ACHONA what it was like in the lanes before the changes. "The first people would be on my feet, so I couldn't really swim straight. I couldn't focus." Samantha Stagg (11), first year swimmer on the developmental squad really enjoys it, "I love it because when I had to do competitive practices over the summer, I was drowning, this is my first year of swim so I don't really know how to do anything, so developmental gives me the chance to develop my skills." Anne Marie Yatsula (11), who has been swimming since she was very young and who is on the Competition squad tells us, "I think this will be an improvement for the team."
With these new changes, the Academy of the Holy Names team has a bright future ahead of them!
WE'RE COMING FOR YOU!