AHN varsity volleyball starts the season off right: prepares for Spike and Splash and beyond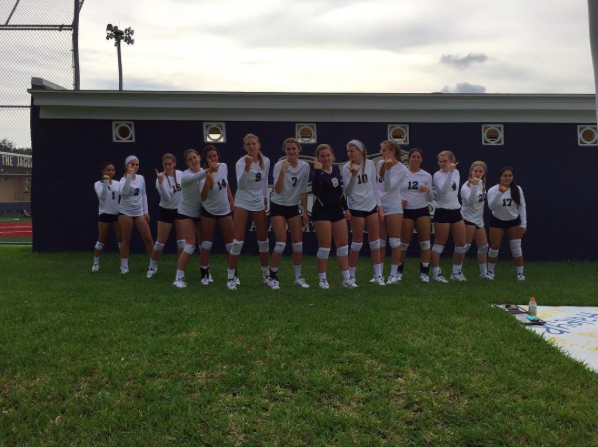 The volleyball season started off with a bang against Indian Rocks Christian School on August 25 with a well-earned win. Since then, Academy's varsity volleyball team has won six games due to their impressive teamwork and the support of their friends and family.
Members of the varsity team continue to encourage their friends and classmates to attend via social media.
come out friday/saturday to support ya volleyball girls from Holy Names, Plant, TC, Tampa Prep, and Wharton at the AHN invitational!!! ⚡️⚡️

— avery (@a_v_e_r_y) September 11, 2015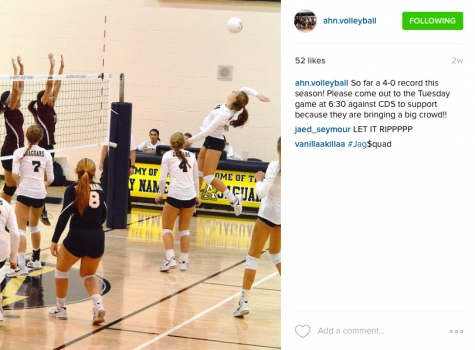 The next four games are away, but on September 29, Academy is playing Berkeley Preparatory School on our home court.
In addition, it seems congratulations are in order for AHN volleyball stars Camille Opp and Avery Stanechewski. Both girls have recently received offers from colleges!
Camille has received a verbal offer from Tulane University in New Orleans and for Avery, Caldwell University in New Jersey and Long Island University in New York as well as others have shown their interest.
When asked if she was excited to play volleyball in college, Avery responded  "Yeah. I love volleyball, and I feel like some people get tired of it after being a senior and playing for four years or more, but I'm not and it's something I definitely want to do"
For Avery and Camille, Darcy Wolf, a member of the Villanova women's volleyball team, offers this advice. "Start learning time management. When you play in college, volleyball takes up a lot more time than it did in high school or club. Otherwise you'll have no social life during season."
And don't forget to attend Academy's annual Spike and Splash for the Cure on October 7th! The volleyball team will be playing Clearwater Central Catholic. Remember to order your own Spike and Splash t-shirt for the event!