Athletes in the off-season
To outsiders looking in, the success of a team is based on their work in the two to three month season of their sport. However, the athletes know that the biggest key to success in the regular season is working hard in the offseason. During this time, several athletes participate in some type of club team, and many others use the time to put in extra individual work. Sophomore swimmer Sierra Wills discloses, "I spend my offseason swimming on a club swim team, so there really is no offseason for me because I am swimming year-round." Greta Dieck, a freshman member of the cross country and basketball team, plays sports for almost the whole school year, so she utilizes the summers. "During the summer, I do a lot of running on my own and I attend summer training practices," Dieck states.

A lot of the time, the offseason can be an athlete's least favorite part of the year because it is often the time where they have to do the things they hate the most like conditioning and lifting weights. Christina Thompson, a senior member of both the softball and basketball team, states, "We condition to stay in shape, if we didn't we would be dying during the real season. We want to be the best, and this is what we have to do to get there."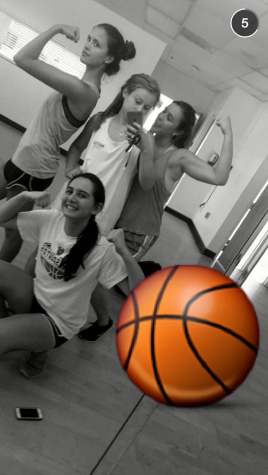 Junior Camille Opp, a three-year varsity volleyball starter, plays on a club team and puts in a lot of individual work. "The best thing I do is stay in shape and work with my trainer during the off-season; he helps me improve my vertical jump and my agility. It has made a huge impact on my skills and has made me a stronger player," says Opp.
Junior lacrosse player Sophia Mastro has a similar approach as Opp by doing both individual work-outs and playing with a club team. Mastro adds, "By doing individual workouts along with playing on a club team I am able to receive the maximum benefit from club practices so I can focus on enhancing my skills for the real season instead of only trying to maintain them."
From coaches' viewpoints, the biggest benefit of doing pre-season conditioning is the getting the early development of their team. Head basketball coach Chris Severini believes, "The commitment and hard work that takes place during that time period brings your team together and helps build team morale and camaraderie. I am a firm believer that the preparation and hard work that is put in during pre-season will pay off in a big way down the road."
It can sometimes seem like putting in a lot of time and effort when there is not any regular season games to play is useless and a waste of time. However, athletes who have worked hard in past off-seasons are able to justify just how much it helps them when the regular season comes.