"Tom Brady is the classiest person with the highest integrity": Deflate-gate
     After a four game suspension sentence for allegedly using deflated footballs to win the 2015 AFC Championship game, Patriots quarterback Tom Brady was freed from the charges at a Manhattan Court on Thursday, September 3 by Judge Richard Berman. This standing, he was able to play in the Patriots' initial kick-off game of the season on Thursday, September 10.  The National Football League Players Association rejoiced in the announcement and calls it a victory for Tom and all the NFL players.
    Though initially this case was concerned upon on the alleged inflated balls situation, it evolved into much more. The case then centered upon NFL commissioner, Roger Goodell's controversial power to determine a player's punishment for violations of the games policy and who or what could impose those punishments.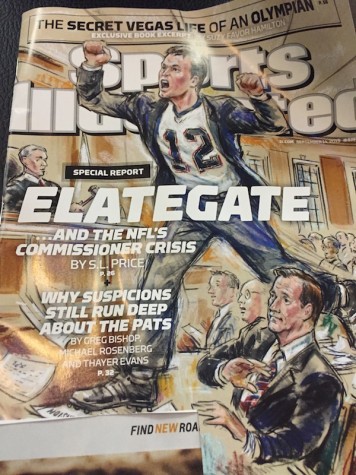 Roger Goodell claimed in his initial letter which claimed Brady's suspension that they had made the decision in reference to a punishment equivalent to that of steroid use. Berman overturns that Tom Brady was not aware of a four-game suspension punishment for ball deflation and/or aware that he would have the punishment equivalent to the use of steroids during any competitive game. The NFL and Goodell announced  that they would later  appeal the decision to protect the integrity of the game, after Brady was acquitted.
     Another reason for the vacate of the suspension was in part because Brady and the NFLPA were prohibited from questioning one of the correspondents to the deflate-gate investigation during a ten hour conference at NFL headquarters in New York. In other words, Brady and his crew could not defend himself or question the investigators.  Federal Judge Berman claimed this was fundamentally unfair. Patriots owner, Robert Kraft gleefully admitted that that they will "return our focus to the game on the field." He then goes on to praise spotlight athlete, Brady with the statement, "Tom Brady is the classiest person with the highest integrity. He represents everything that is great about this game and league".
    Junior, Teresa Toranzo, agrees with Kraft, she says, "I love Gronkowski, I do. but he's known in the media as a big partier who constantly puts himself into those environments. Tom Brady is the antithesis of Gronkowski- he is a family man and is rarely seen in immature situations. He is a genuine person, with honest intentions, who wouldn't sabotage an institution as infamous and dear to him as the NFL".