AHN Basketball Team Begins Season
As of Wednesday, October 22, basketball tryouts officially concluded and the regular season began. Practices started on October 23 as both the JV and Varsity teams start to prepare for their first games. The players are excited and ready for basketball season to be back. As well as participating in competitive games, the girls get to meet new people and make new friends. "My favorite thing about basketball is the girls I get to meet, and the friendships that have made through being a part of the team," says sophomore Kayla Eckermann.
The varsity team hopes to improve their 16-12 record from last year and capture a district championship. "The goal for this season is to continue to build up our basketball program and strive to win a district championship, something that hasn't been done here in 12 seasons. Everything we do in practices and in regular season games will be geared towards achieving that goal and making sure we are playing our best in late January," says head coach Chris Severini. This year, Academy's district includes Tampa Catholic, Sarasota Military Academy, Berkeley, Clearwater Central Catholic, Cardinal Mooney, and Brooks-DeBartolo.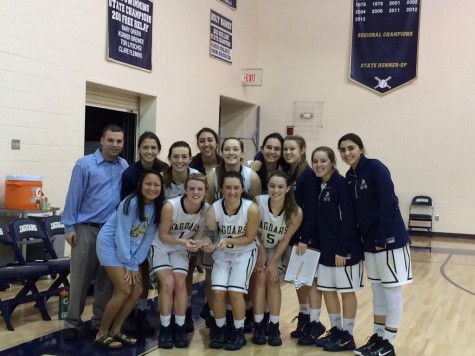 With last year's seniors gone, the team will have to rebound from the loss of the four senior players. Senior Christina Thompson says, "I am really excited for this upcoming season! Since I am only one out of two seniors, we have a lot of underclassman on the team. This year I want to help push the team to make a great foundation that can help them excel in their seasons to come!"
This year, the JV team looks to continue the success of the JV program by continuing their undefeated streak from the previous two seasons. One of the newest members of the JV basketball team is new coach, Stacy Filocco.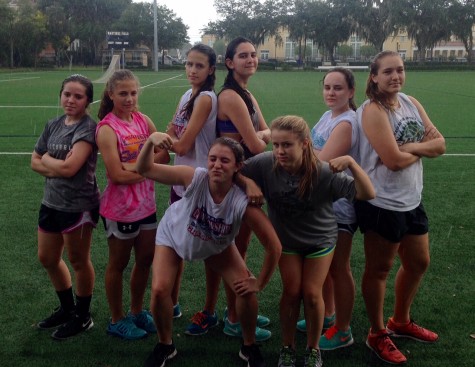 For students who want to come out and watch some games, joining Jag Nation is a great way to show support for friends while having a blast participating in the cheers. Freshmen Summer Wolf is looking forward to joining Jag Nation to cheer on her friends. She exclaimed, "I am looking forward to watching the games, joining cheers, hanging with friends, and see my friends play." Juniors Kathryn Byers and Emily Villanueva also plan to attend a high school basketball game this year for the first time. Kathryn is looking forward to going because she "would love to support our fellow sisters, especially the juniors on varsity!" Emily says, "This year I plan to attend a game only because I am open to trying out new things that I normally wouldn't. My first basketball game I am looking forward to just having a great time with nice people and being able to enjoy the game. "
Varsity has its first regular season game at home on November 10 against Tampa Prep and JV plays its first game on November 12 at Clearwater Central Catholic.
The rosters for both teams are listed below:
Varsity                                                                    JV
Megan Bajo (Sr.)                                                 Danielle Brennan (Fr.)
Mickey Carney (So.)                                           Anamarie Lefler (Fr.)
Greta Dieck (Fr.)                                                 Alyssa LoSauro (So.)
Kayla Eckermann (So.)                                      Amber Pedregal (So.)
Devin Folkman (Jr.)                                           Lauren Pieper (So.)
Jessica Galvis (Jr.)                                             Taylor Scott (Fr.)
Katherine Hahn (So.)                                         Natalie Smith (Fr.)
Domenica Howard (Jr.)                                    Anna Williams (Fr.)
Alyssa Muir (Jr.)
Lindsey Perez (So.)
Maddy Ruppel (So.)
Christina Thompson (Sr.)