Soccer Kickoff 2015-2016
The 2015-2016 soccer season has kicked off with a bang. The players practiced  long and hard for weeks getting prepared for their first game against  Plant. Academy took home the victory Friday night with a score of  3-0. The goals were scored by Ellie Abdoney (11), Hannah Menendez (11), and Julia Lester (12). This year has big potential for the varsity team and they have their eye on winning the District Championship. Ellie Abdoney has been playing soccer since she was a young girl and is a big asset to the team. Ellie is excited for this new season saying, "I hope that we will win districts because it will be the first time in school history and I think we can do it because we have a really strong team. The freshmen are a big help. I was happy to beat Plant, because they beat us last year and it was a test to really see what our team could do."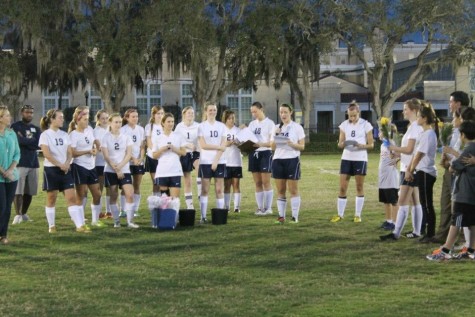 This year is the first year that there is a JV team at the Academy of the Holy Names. There was an overflow of girls who tried out this year and brought a multitude of talent. We have an amazing coaching staff at the Academy with a new JV coach, known simply as "Coach Max," is  from Michigan and has played soccer for many years. "Coach Max is a great addition to the team. I am so excited for this season," said Gretchen Swenson a JV soccer player. Coach Kareem is the varsity coach and has been working at the Academy for seven years. He is a very experienced player who has been involved in the soccer community for many years. After three years of coaching the high school girls he got them to regional semifinals. His experiences in soccer help him teach the girls the fundamentals and skills they need to achieve greatness. Kareem was recently appointed into the University of Tampa Hall of Fame for his achievements through his soccer career and his players could not be more proud.  "This year's team has so much talent that I can picture us finally being district champions! We would not have made it this far without the help and guidance of coach Kareem," said by Claire Obeck who plays forward for the academy soccer team.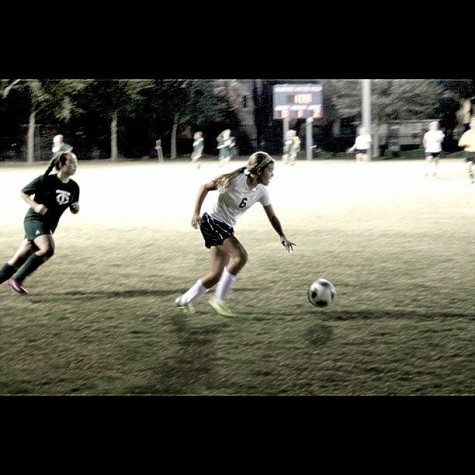 The Academy community is proud of the girls and how far they got last year. Friends and family of the players  will cheer them on all the way to the District Championships. Gillian Garcia loves going to the games, "I am very excited for this soccer team this year! I am very excited going to the home games and supporting my friends on the team." The soccer team is advancing with skill and determination and the students are excited to go and support their friends on the team. Students wanting to try out should join different club teams or soccer clinics to help themselves develop more skills for next year's tryout.
About the Contributor
Gabby Accardi, Senior Staff Writer
Gabby Accardi is an Academy of the Holy Names senior and first year journalist. She is very excited to be joining the Achona staff this year ready to give...