Crew team takes on the Halloween Regatta
On October 31, 2015, the Academy Crew team continued on with the yearly tradition of attending the Plant High School Halloween Regatta. In accordance with the festive nature of the day, the officials of the event made an exception and allowed rowers to dress up in costumes for their race.
Great day for racing! Happy Halloween! pic.twitter.com/4AHRQOYxek

— Plant High Rowing (@PlantHighRowing) October 31, 2015
Usually, the uniformity of a crew is strictly enforced, sometimes resulting in disqualification if rowers fail to adhere to the rules. Rowers are required to wear their unisuits, and any additional clothing is prohibited unless the weather calls for it. Other sports follow similar rules. For example, senior Jessica Villa comments that in soccer, "you have to wear your club's uniform for the games and no accessories are allowed; no earrings, no hats, no bracelets, nothing. " Therefore, for rowers, this occasion is something to look forward to all season long.
This year, participation in the free dress was at an all-time high. In the years past, Academy has been really the only school to have everyone dress up. This year, other schools chose to join in the fun- dressing up as anything from Snow White and the Seven Dwarves to inmates.
https://instagram.com/p/9gappIlSBQ/
In addition, the rowers were able to convince their coaches to join in on the festivities and dress to impress. Taylor Demeza, head coach, dressed up as Pocahontas complete with a homemade skirt, top, and a drawn on tattoo. Stephanie, novice coach, chose to be her trusty sidekick, Meeko.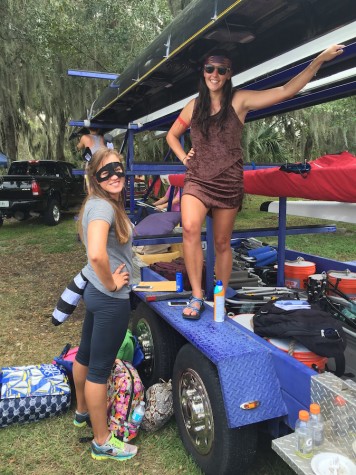 The best and most appreciated costume of the whole event was adorned by coach, Jorge Rodriguez.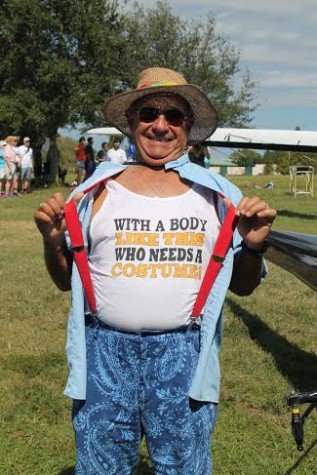 The rowers themselves never disappoint when it comes to wearing creative and fun costumes for the event. The varsity 8+ went as the Gryffindor Quidditch Team, the lightweight 4+ dressed as Superman, and the freshman 8+ were excited to go all-out and went as Santa and his reindeer. Freshman Isabel Laboy comments, "I loved that we could dress up and talk with our boat about what we wanted to do. I have never done crew before so it was fun to dress up for the regatta."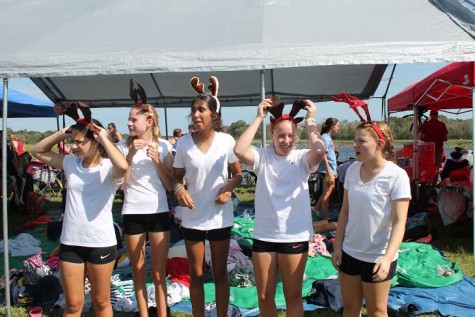 Coaches were concerned that the costumes would negatively affect the team's performance on the water. They asked everyone to take off any addition pieces of their costume that could fly off or get in the way while rowing.
Unfortunately, no one on the Academy Crew Team raced down the Bypass Canal in a Gryffindor scarf or reindeer ears, but the drawn on whiskers and creative socks kept the girls chipper while they raced a brutal 4,000 meters. Freshman Isabella Leandri comments " I think even though it is a race and you must be focused on doing your job it's okay to have fun and be festive, because even though you want to win you can still dress up and have fun while getting the job done!"
Even though the team as a whole did not do as well as they would have hoped, due to increased competition and few available categories, they still managed to make the most out of the event and have fun. The day ended with the celebration of senior Mimi Kamm's birthday and cake.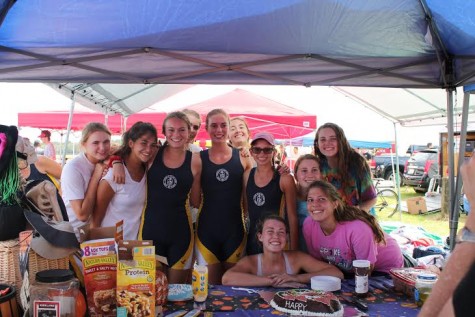 About the Contributor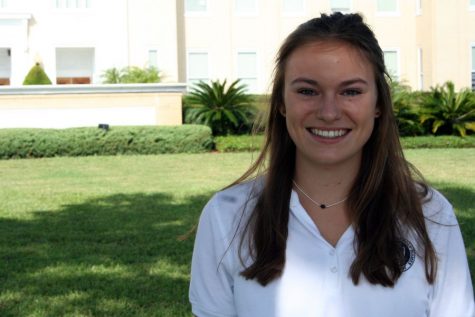 Nicole Browne, Editor-In-Chief
Nicole Browne is a second year staffer, senior Editor-in-Chief of Academy's Online Newspaper. When not spending her time at crew practice and regattas,...