States Go Swimmingly for the AHN Girls
The Academy of the Holy Names swimmers continue to prove their domination in and out of the pool. On November 7-8, the girls journeyed to Stuart, FL to compete in the 2015 FHSAA State Swimming meet. With the pressure high, the girls were ready for competition. Junior Lara Lontoc shared, "It is during states when I most feel swimming is a team sport. Everyone was so encouraging and excited for each other, and there was so much positive energy." The bond between the team did not go unnoticed. With close to twenty teams competing, whether cheering for the Jesuit boys or for their very own AHN sisters, spirits were high and the eye was on the prize.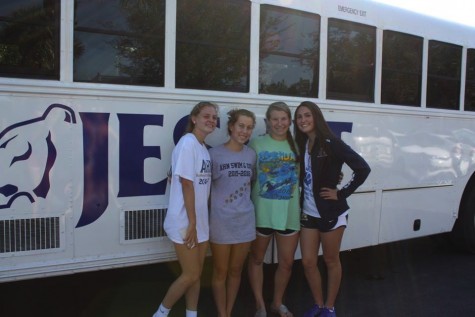 Both Gabby Delp (10) and Lara Lontoc (11) were nervous going into states because both were seated top 16 in their respective events. Both have their own routine to prepare themselves for their races. Lontoc shared, "I warm up about 20 minutes before my race, sit down and drink for a little, then head over to coach. He gives me a pep talk of sorts, telling me what to focus on and calming me down. I try to shake off the nerves because I know that all the anxiety is taking away energy, but that's easier said than done! The last few moments before stepping up on the block, I make my mind go blank and train my focus entirely on the water I am about the dive in to." Delp shared,  "I visualize what I want to achieve, how I'm going to swim my race, and the times I will swim. I always try to clear my mind when I'm on the block. I was trying to place as high as I could to contribute points to the team for our success."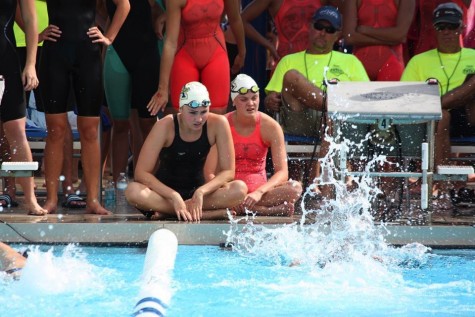 Then came time for the 400 free relay, the most anticipated race in the state competition for the AHN girls. The 400 free relay team was comprised of sisters Olivia (12) and Isabella (10) Kirkpatrick, Gabby Delp(10), and Lara Lontoc (11). Gabby Delp shared how the girls prepared themselves for the race, "My favorite was the last race of the meet which was our 400 free relay-Bella, me, Lara, and Olivia. I remember before that race holding hands, praying together and saying that whatever happens happens, but that'd we'd leave it all in the pool despite our competitors." The girls inevitably placed at states and earned a spot on the podium for the 400 free relay, which made them feel like a part of something bigger than swim. Delp shared, "When we got second and stood on that podium, it was the greatest feeling- being a part of something bigger than myself."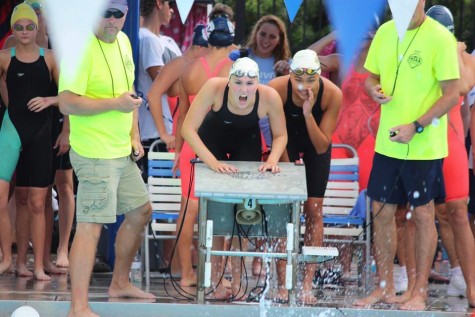 we're in the newspaper!! #JagSwag pic.twitter.com/DWjK2lh6Kd

— Jag Nation (@jagnation_1881) November 8, 2015
Even though the girls placed 7th overall because of a tiny mistake that would've placed them 3rd; this mistake proved the bond between the girls. Lontoc shared the emotional experience, "Although my individual events did not go as well as I had hoped, the 400 free relay made it all worth it. The 200 medley relay was rough. I was the last swimmer, and I left 0.02 seconds early. We got disqualified and would have placed third. I felt so guilty and was so upset, but everyone was nothing but supportive and just so nice. This relay was the first one of the finals, and my head was a mess for my individual events, but my teammates helped me pull myself together for the last event, the 400 free relay. I was determined to redeem myself in this race and thanks to my AHN sisters, I swam my best time." States went swimmingly for our girls AHN girls and the team is hopefully for what next season has in store.