Jaguarettes Made Big Leaps January 18
The Academy dance team–or better known as the "Jaguarettes"–have always been remarkable in their many performances in between volleyball games, basketball games, and pep rallies. However, many Academy girls do not get to witness their hard work and determination behind the scenes of these high school events. In fact, they carry their hard work and enduring effort into competitions outside of school. Last Monday, January 18, the Jaguarettes gave their all in a dance competition in Orlando, FL. Watch it here:
The Jaguarettes placed 4th Place in their Pom Routine and 4th Place in Jazz. Junior on the dance team Tessa Vaughan said that since their competition level was so high, she did not expect the Jags to do so well.
"Most of the other teams dance a lot more than we do," says Vaughan.
In fact, they competed against a total of seven teams. All of the dancers were pleased with their rank, especially since they considered themselves underdogs.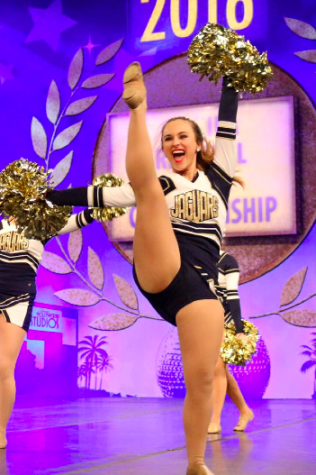 Under their coach, Stephanie Zummo, the Jaguarettes practice and perform year-round.  Senior Sofia Curry stated,
"I really appreciate the hard work that both my teammates and coach put into this year. While most high school dance teams do not get the chance to perform at basketball, volleyball, and soccer games, our team is lucky to get the opportunity to sit on the sidelines for the majority of Academy's sports games."
But don't think that since the dance team has gone to competition and back that you have seen the last of them; the Jaguarettes have a performance, and their senior night, during the basketball game (at home) on January 21 at 7:00p.m. They will also perform during Jagball, February 4, when the entire Academy student body and faculty comes together for Catholic School's Week.
Want to see more of them? Check out the gallery below!