Senior Night Honors Seven for Basketball and Dance
On Friday night, AHN came together to honor seven basketball and dance seniors at the Jaguar's Basketball Game versus Indian Rocks. The Basketball Team celebrated Megan Bajo and Christina Thompson, while the Jaguarettes celebrated Sofia Curry, Kelsea Henry, Maddie Matesich, Ashley Repar, and Veronica Sanchez.  The night started off before the game with Juniors Devin Folkman and Alyssa Muir speaking a few kind words about their fellow teammates, Megan and Christina. They both reminisced on fun memories from years past and admired the seniors' dedication and positivity throughout the years on the basketball team.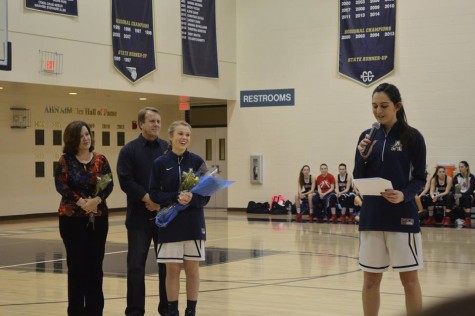 On her speech, Thompson recalls, "Senior night was amazing! The juniors and underclassmen did a great job planning it! Alyssa wrote an amazing speech that made me laugh and cry. I'm going to miss my team so much next year, and I couldn't have wanted to spend my last year on basketball with no one else than them."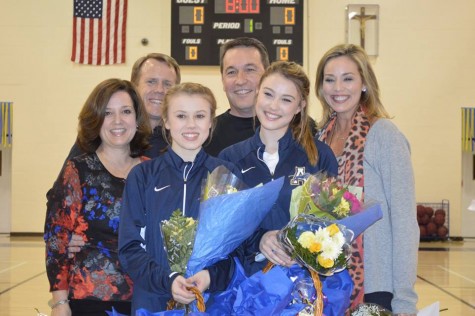 Bajo remembers, "The juniors went above and beyond for Senior Night. They made the night so special and did a really great job. Devin mentioned a quote that I always say… 'you have to look good to play good'! It made my night!"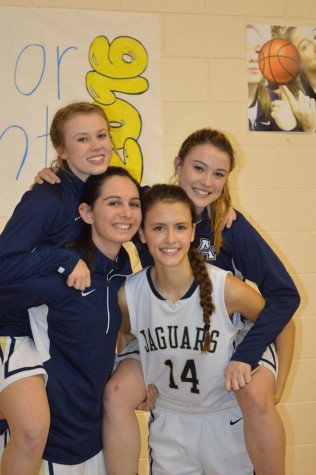 After speeches, they were given gifts from the team along with a bouquet of flowers. Both seniors got a monogrammed jewelry box, a Lush bath bomb, a candle, cookies from KT Janes, a gift card to Fit2Run, and a framed picture of the team.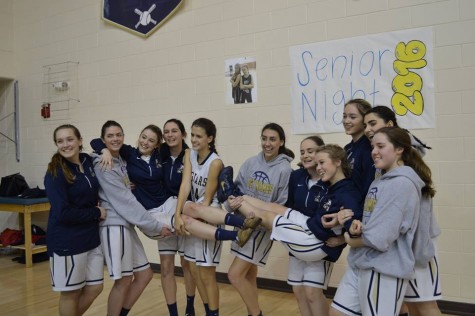 During halftime, the Jaguarettes took their turn in honoring their five seniors for their dedication from the past four years on the team. Each junior dancer had the opportunity to speak about one of the seniors.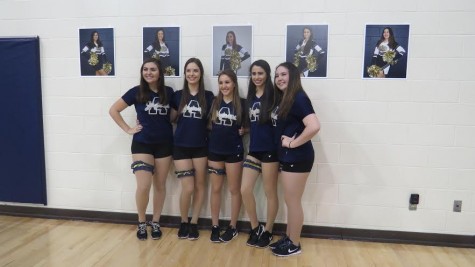 Sanchez recalls, "I loved how Sarah and Danielle referenced specific events to remind me of all the great times on dance team together. They really made it special for all of us seniors and it couldn't have gone more perfect!"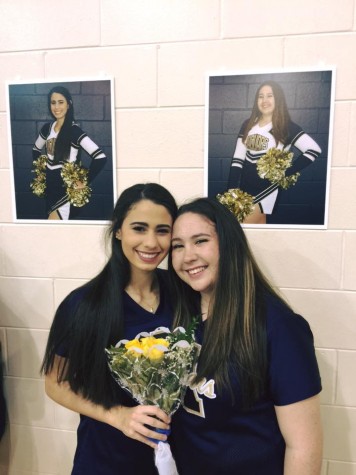 Matesich was very emotional regarding her speech. She reminisces, "Danielle and Ally's speech made me cry and was so special to me. It was so nice to hear them talk about all the memories we have shared and I will miss them so much next year."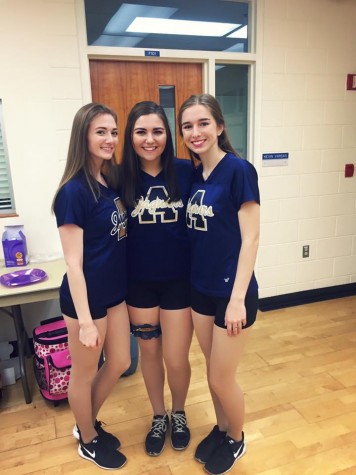 Curry remembers, "I really loved hearing the juniors' speeches for me and the rest of the seniors. It was nice to know that all of our hard work has paid off! The night in general was very sentimental."
Then, they were awarded a bouquet of flowers and a special gift from the Juniors and Sophomores, which was a small coordinate bar necklace with AHN's coordinates.
Of the gift, Sanchez gushes, "The gift was far beyond what I was expecting and it made me feel really at home. Whenever I wear it, I'll always remember the amazing years I spent at the Academy."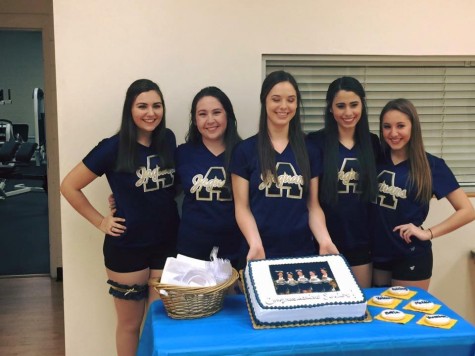 And what a better end to a special Senior Night than another win for the Jags! The team beat Indian Rocks with a close victory in overtime, a perfect end to the last basketball home game of the season!