AHN Soccer and Basketball Teams Cap off Their Seasons with a Winter Sports Banquet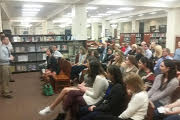 On Wednesday, February 17, the JV and Varsity basketball and soccer teams celebrated their respective seasons with a beautiful banquet. The teams, their family members, and coaches were present for this special event. The night began when Kevin Vargas, the head athletic director, shared a few thoughts about each team's accomplishments during the season.
The JV basketball team finished their season with an amazing record of twelve wins and one loss. The JV soccer team finished off this season with a record of five wins, two losses, and a tie, after a couple of years of not having a team. The Varsity basketball team finished their season with sixteen wins and ten losses. The season was highlighted by the first regular season sweep of Tampa Catholic in decades along with a thrilling overtime victory against Indian Rocks Christian on senior night. The Varsity soccer team won the first ever district and regional championship in Academy soccer history but fell in a close match in the state semifinal. They finished with a record of nineteen wins and two losses.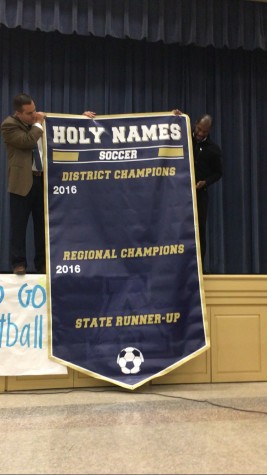 Hannah Menendez (11), a participant on the Varsity soccer team, says, "The banquet was happy and sad at the same time because when it ended, it just hit me that it was the last time I would be playing with the seniors. It was a nice way to end the season with the banquet bringing back all the great memories we had."
After a delicious dinner catered by Carrabbas, Vargas introduced the new Hall of Fame inductee, Danielle Darby England. England attended Academy from 1998 to 2002 and played cross country, basketball, and track. She was all-county in every sport she played, and she had the greatest success in basketball. She scored 1, 595 points during her basketball career, which is the sixth most in school history. After Academy, she then went on to play basketball at the Naval Academy.
Senior Varsity Basketball member,Christina Thompson, comments, "The lady who received the hall of fame induction, seemed awesome! She was a leader on and off the field, plus she went into the military! Anyone who has the guts to defend our country in combat is someone of honor in my eyes-regardless of their athletic abilities from high school!"
Next, basketball and soccer split up so the respective coaches could talk about the season in greater detail and hand out some individual awards. JV players received medals for their participation and Varsity players received pins to go on their Varsity letters.
Natalie Smith, a Freshman member of the JV basketball team, liked splitting up into just the basketball teams because "everybody seemed to have a fun time and really enjoyed being together."
The athletes who received special awards for their performances during the season are:
JV Basketball
Most Valuable Player: Alyssa LoSauro

Coach's Award: Lauren Pieper
Varsity Basketball
Heart & Hustle Award: Megan Bajo

Impact Player: Lindsey Perez

Most Improved Player: Katherine Hahn
JV Soccer
Coach's Award: Brooke Jennings

Jaguar Spirit Award: Khalea Armstrong

Most Valuable Player: Hailey Eckermann

Beast Award: Venus Sandoval
Varsity Soccer
Coach's Award: Jessica Villa

Jaguar Spirit Award: Lindsay Boos

Most Valuable Player: Julia Lester

Beast Award: Julia Petrillo