Academy Athlete Pregame Rituals
At Academy, every sports team does something a little different before games to get themselves mentally prepared for the upcoming match. One team's pregame rituals can be meant to relax the players while another can be meant to hype everyone up before the game begins.
The softball and swimming teams both have similar pregame traditions. They stand in a circle and holds hands while saying a prayer. The softball team also receives a quick pep talk from their coach before loudly chanting "Jags on three! Jags on three! 1,2,3…Jags!"
In contrast, the volleyball team likes to loosen up by eating and dancing in the team room. Then, the team gets serious and talks about strategies that they can use against their opponents.
pre game warmup https://t.co/N00PobntQU

— avery (@a_v_e_r_y) September 5, 2014
Camille Opp (11) states, "I love how our team can be joking around at one moment and then completely serious the next. It helps us focus on the upcoming game, but it also allows us to not stress out that much."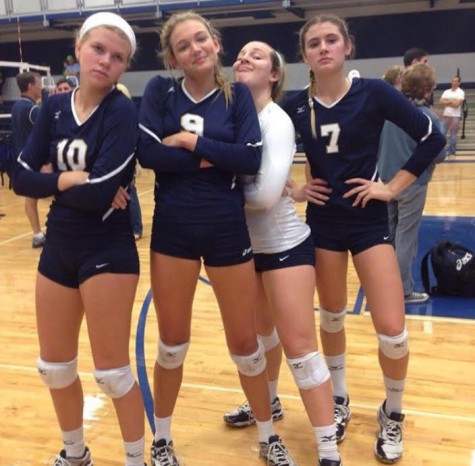 The basketball team likes to get hyped before their games by doing "crazy eights". The girls stand in the hallway leading to the gym and count down to eight four times as loud as they can, and then they do the same thing counting down to four and two. They finish by jumping up and down excitedly and then jogging onto the court for warmups.
"I love crazy eights because it helps the team to collectively come together and it gets rid of my pre-game nervousness," says sophomore point guard Kayla Eckermann.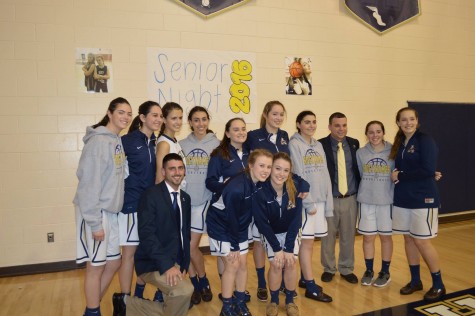 The lacrosse team gets excited for their games by remembering exactly why they play the game. The team stands in a circle and holds hands while chanting, "I promise not to let myself down. I promise to not let my coaches down. But most importantly, I promise not to let the girl beside me down."
Olivia Valdes (11) says, "I like our chant because Lacrosse is a team sport and it remains us to not think of ourselves, but of our whole team and all of the work put into this season."
The crew team sends a fist bump down every boat just before their race starts. They also say a special chant while coming together in a circle.
Sophomore crew member Mickey Carney, states "We do this before every race no matter what, and it really helps our team focus."
Similarly to volleyball, the soccer team likes to goof around as a little way to relax themselves before the game begins. The team gathers in the dance room to listen to music and dance until they go out onto the field for warmups and strategy talks.
COME OUT AND SUPPORT YOUR AHN SOCCER TEAM TONIGHT @ 7 ⚽️?? pic.twitter.com/bnAVT3AE4y

— AHN Student Council (@AHNstudco) January 21, 2016