Tips for Jesuit Cheer Tryouts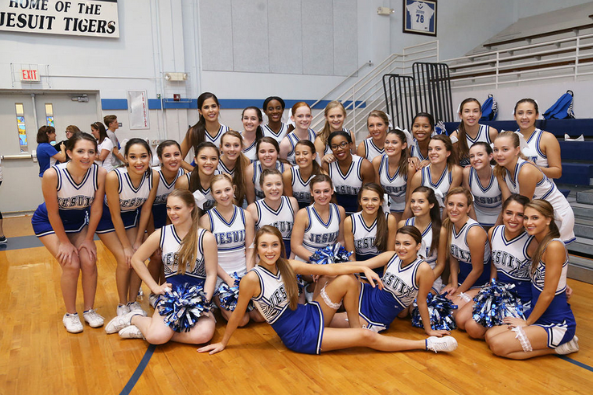 The time for Jesuit Cheer tryouts are here! This is an amazing opportunity for Academy girls to get involved and support Jesuit High school at football, basketball games and other events. 
Here are the main things the coaches will be judging:
Showmanship: enthusiasm, spirit, execution of material, confidence
Jumps: execution, height, control
Cheer: precision, projection, synchronized with others, few mistakes
 Dance: motions, rhythm, timing, expression, energetic, few mistakes • Stunting: execution of position (base, back spot, flyer)
Tumbling: There is not a tumbling requirement. However, executed running and standing tumbling is preferred. Please note that there will NOT be spotters available during the tryout clinic or the formal tryout day. If you do not feel comfortable throwing a standing or a running tumbling pass without a spotter, please DO NOT feel the need to throw it. All candidates who make JHS Cheer will be required throughout the year to perform the tumbling skill they were evaluated on during tryouts. If you are unwilling to tumble at performances, DO NOT TUMBLE AT TRYOUTS.
Here are some specific tips to keep in mind while trying out for cheer (or any sport related to this category):
Tip one
MAKE SURE YOU HAVE ALL THE PAPERWORK FILLED OUT
REQUIRED PAPERWORK THE FIRST DAY OF TRYOUT : 
1) Tryout Application- Attach a small picture at the top. The picture will not be returned, so a paper copy is fine. (Applications will be available at tryouts)
2) FHSAA Concussion and Heat Related Illness Information Form
3) FHSAA Parent Consent and Release Form
4) FHSAA Physical Evaluation- Page #1 is to be completed by the parent(s). All information must be complete and up-to-date. 5) FHSAA Physical Evaluation- Page #2 is to be completed and stamped by a medical doctor. A current physical is required.
Tip two
BE PRESENTABLE EACH DAY OF TRYOUTS
TRYOUT ATTIRE:
-Royal Blue shorts (soffes, have to be this color)
-Plain white t-shirt, tucked in
-White tennis shoes or (cheer shoes)
-Hair pulled back in ponytail, always good to add a white or royal blue ribbon not bow
-No jewelry of any kind
-Formal tryout- No embellishment or writings on t-shirts or shorts
" I remember my freshman year majority of the girls had a ribbon in their hair and someone was so kind to offer me a ribbon so I wasn't left out when I went to tryout" – Junior Karianne Buser
Tip three
ALWAYS SMILE AND DON'T HAVE A BAD ATTITUDE
-When talking to the coaches or a senior always have a nice and positive attitude. It can add points for judging and give them a sense that you are a great student and want to be there.
– When learning cheers and new criteria be sure to smile! The coaches love it and will be looking for that.
Tip three
DO WHAT YOU CAN!
-Make sure, when doing stunts or tumbling during the tryout, not to perform anything you cannot do or can partially do. The coaches absolutely do not want anyone getting hurt. It's better not to show any tumbling. Instead, just show of you great motions.
Tip four 
BE ON TIME 
-Try not to be late. It shows that your not fully committed to this sport. Unless theres a big reason you can always text the coaches.
Tip Five
BE FULLY COMMITTED 
-Make sure your schedule is free! Cheerleading takes up almost the whole year and you always have to be positive and make sure you are ready to take on the challenge of a fun, hard working, year with wonderful people!
" I've been a Jesuit Cheerleader for four years and have been fully committed to this sport I am going to miss all my friends and all the cheer events next year" – Senior Rebecca Castellano
TRYOUT DATES AND SCHEDUELS 
Monday, March 21st 4:00-6:00 p.m. : Parent Meeting 4:00-4:15 p.m. (in front of the gym)

Questions regarding tryouts, costs, camp, time and commitment are covered during this meeting.

Tuesday, March 22nd 4:00-6:00 p.m.
Wednesday, March 23rd- 4:00-6:00 p.m. (Formal Tryout) All tryout days are closed to the public.
"Being a cheerleader for Jesuit is gonna be one of the best experiences you'll ever have and will never forget being apart of a Jesuit program is wonderful and super fun and you meet tons of people and bond greatly with your sisters"- Senior Hadley Chillura Cheerleader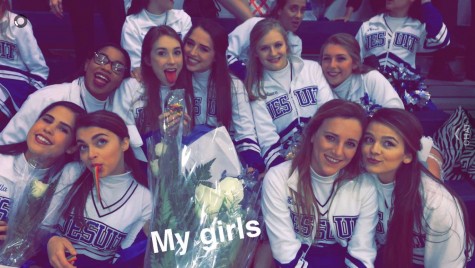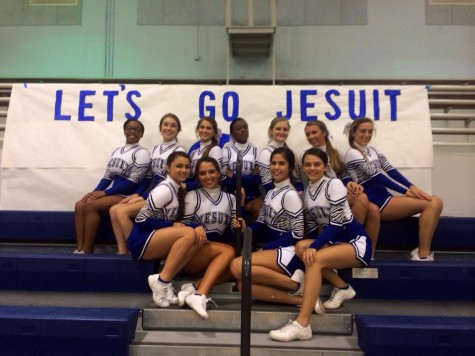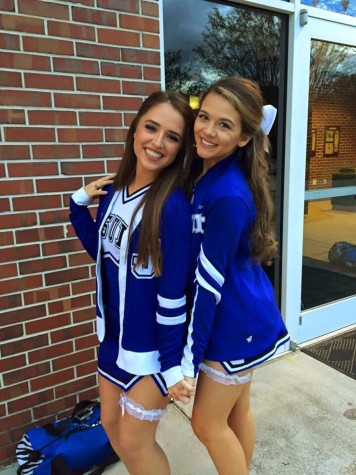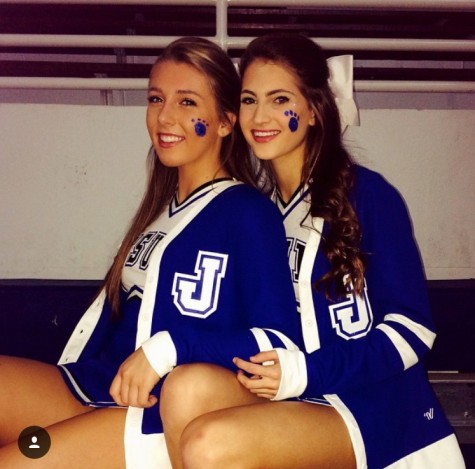 Credit: Zoe Bennett