Academy Softball Wins Districts
On Thursday April 14, the AHN softball team won the district championship at Berkeley Preparatory School with a 10-3 victory against Tampa Catholic. This is the softball teams second consecutive district championship. The Jaguars used a combination of strong pitching and good hitting to beat their rival for the third time this season. The win gives the Jags home-field advantage as they head into Regionals. 
"The district championship feels great especially because it was a complete team effort. We would not have been able to do it with out each and every girl on the roster," says Junior Haley Morrell.
JAGS ARE DISTRICT CHAMPS 10-3!!!! #JagSwag

— Jag Nation (@jagnation_1881) April 15, 2016
Academy took their first lead in the second inning when they went ahead 1-0 but then TC quickly tied it at 1-1 in the top of the third inning. The Jags exploded after that as they were leading 6-1 after five innings. They went into the seventh and final inning with a 10-3 lead, and they managed to not give up any runs, and secure the victory.
Sophomore Alyssa LoSauro comments, "It was nice to win districts because it showed that all of our hard work has paid off, and it gets us even more determined to win a bigger championship. Our goal is to go as far as we can, but we would all love to make history and be the first softball team at AHN to win a Regional Championship."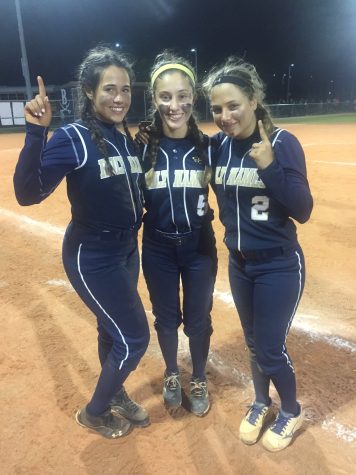 Everyone for the Jaguars hit well which lead to their ten runs. Katie Hale, Haley Morrell, and Gelmi Pasquier each batted in two runs. In addition, the Jaguars pitching and fielding was stellar throughout the whole game. Junior Allie Weachter pitched the entire game and only gave up three runs off of six hits.
Starting pitcher Allie Weachter (11) states, "I was really nervous before the game started because it was such a big game against our rival school. However, after I threw the first inning, I felt really confident that I could do my job well."
The Jaguars continued their postseason run on Thursday April 20 when they won against The First Academy in a regional semifinal. Next, they will play at Montverde Academy on Tuesday April 26 in the Regional Finals.