AHN Crew Team Competes at State Championship Regatta
This past Saturday April 16 and Sunday April 17, Academy's crew team rowed at Florida's Sculling State Championship Regatta. Rowers arrived at Nathan Benderson park in Sarasota just as the sun was just beginning to rise at 6:45 am on Saturday. With over fifty teams competing for state titles, tensions were high and the park was full of athletes attempting to stretch or run their nerves away. The mood was especially foreboding due to the choppy condition of the water which posed a serious concern for bow seats, who simultaneously have to row and keep the boat on a straight course during the race.
Sophomore and bow seat Caitlyn Helms reflects on her fears for the race, "I thought we were going to crash into a wall for a little while. Steering is scary especially because the wind was so bad."
Helms concludes that she felt relieved after her race that she was able to control the steering of her boat, and that perhaps her worries were slightly exaggerated.
Saturday contains qualifying races where boats strive for one of six spots in the finals, which take place on Sunday. There are usually two heats of teams per race, with first and second place from each heat moving straight to finals. The teams who don't qualify right away still have a chance to earn a spot by rowing in repechage (or Reps) later on Saturday. The first and second place boats from Reps make up the remaining two spots in the final six. Freshmen Dannie Daley and Sophie Ragano rowed in the Freshman double Repechage after achieving third place in their qualifying race. Daley  remarks that the wind was horrible during their second race of the afternoon. So bad, in fact, that the regatta officials canceled all heats after their race until conditions improved.
Daley comments "We were really disappointed because we didn't advance because of that. We would have if they had canceled our Reps."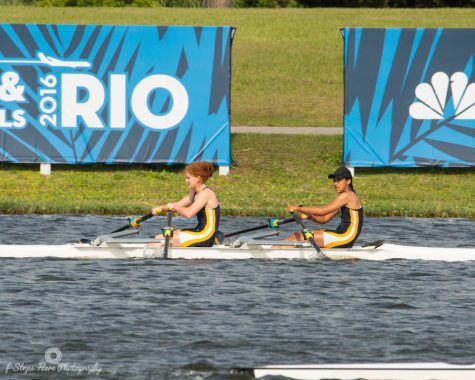 Saturday was a grueling day of heavy wind and arid sun, and after ten hours of races in trying weather conditions, Academy walked away with six boats going to finals.
RESULTS OF SUNDAY'S RACES
---
Freshman double – Dannie Daley (9) and Sophie Ragano (9): –Did Not Advance–
Junior double – Gabbie Ragano (11) and Abby Morris (11): 5th overall, 1st scholastically
Lightweight double – Caroline Yount (12) and Ronnie Fair (12): 6th overall, 1st scholastically
Varsity double – Julia Defabrizio (12) and Ashley Anderson (10): –Did Not Advance–
Junior quad – Keri Kelly (11), Mickey Kearney (10), Catie Moffett (10), and Nicole Browne (11): 3rd overall, 2nd scholastically
Lightweight quad A – Haley Hemmings (10), Emma Heston (10), Jules Lavoy (10), and Caitlyn Helms (10): 6th overall, 2nd scholastically 
Lightweight quad B – Bella Ebsworth-Llavona (9), Delaney Lambert (9), Lindsay Aires (9), and Conner Gee (10): –Did Not Advance–
Freshman quad – Sydney Lowman (9), Isabella Thorpe (9), Anna Williams (9), and Charlotte Carl (9): 4th overall, 2nd scholastically 
Varsity single – Mimi Kamm (12): 4th overall, 1st scholastically
Collectively the Academy crew team enjoyed another year of Sculling States, earning three scholastic trophies and finding time among the warm-up runs, boat preparation, and exhausting races to share in each other's hard work and success.