Academy Golfers' Tips "Fore" You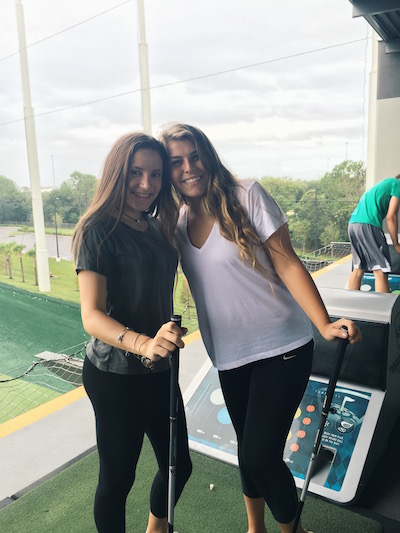 Just like any sport, golf requires a number of different skills and techniques in order to be successful. These skills can not only be applied to an actual game on a golf course, but they can also be used while enjoying recreational golf complexes, such as places like mini-golf and Topgolf. The Academy golf team, which includes 10 girls, is full of tips and advice for those looking to spend time on a (mini) golf course.
Practice makes perfect, as sophomore golf team member Bailly Gray states, "You can start off bad at golf, but you can get better over time."
Practice makes perfect ️ #practice #golf #instagolf #lovegolf… https://t.co/m5ZPWTTd6y pic.twitter.com/v3clPgHdpE

— Golfer Galore (@golfer_galore) September 7, 2016
Topgolf is a "golf entertainment complex" that provides a unique and fun way to spend time with friends. State of the art technology helps contribute to Topgolf's success. For example, each individual golf ball has a microchip, which tracks not only the player's accuracy but also the distance the golf ball travels. Players are given points when their golf balls hit one of the many targets in the "outfield," which are hit from each player's individual "bay." Each "hitting bay" is "climate-controlled;" it regulates the temperature within the area according to the weather outside. In addition, the hitting bays are equipped with room for up to six people, and it has a large menu with a variety of food and drinks that can be ordered.
https://www.instagram.com/p/BJtUWQcBhf2/?taken-by=topgolftampa%20
Another popular type of recreational golfing is miniature golf, otherwise referred to as mini-golf or putt-putt. Mini-golf shares some of the same rules as golf itself. For example, both mini-golf and golf courses have 18 holes. In addition, the players of both versions aim to hit the golf ball into the hole in the least amount of shots possible. However, each miniature golf hole is a shorter distance than that of an actual golf course. Also, mini-golf courses usually have a theme for each course, such as Smugglers Cove Adventure Golf which is pirate themed.

The following tips from the Academy golf team can be used to better each recreational golfing experience in order to get that hole-in-one or, for that matter, to hit that target.  
Choose a target.
"Always have a target when you are on the range, and try to keep it simple," freshman golfer Georgia Ruffolo explains.
2.   Keep an athletic stance.
Junior Academy golf team member Caitlin Shannon states, "Keep an athletic stance and bend your knees, so that you can actually hit the [golf] ball well. If you are stiff and do not relax your body, your shot will not turn out the way you want it to."
@SageKaram start in a more athletic stance. Like a linebacker in football. Weight on the balls of your feet. Knees flexed. Bent at the waist

— Patrick Rodgers (@PRodgersGolf) June 21, 2016
3. Start with a shorter club.
Freshman golf player Haley Angel advises, "Start with a shorter club like the seven iron, don't start with the longer clubs like the driver because it is harder to hit."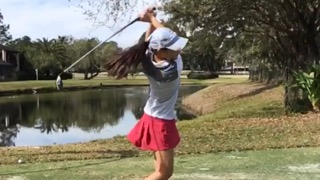 4. Follow through with your swings.
Sophomore golf team member Kelsey Barton states, "The biggest mistake I see inexperienced players doing is not following through on their swings. When you hit a driver or an iron, you should always have your chest facing towards your goal at the end of your stroke. Usually I see inexperienced players kind of just tap the ball with the end of their club and lift it up a bit and expect it to go really far, but you need to build up a lot of momentum in your club by standing and holding the club correctly."
5. Have fun!
Although each member of the golf team has different ideas on how to improve, they all agreed on one thing, the importance of having fun.
As Barton states, "I think my favorite part about golf is definitely the stress relief. Once I have finished my round, I am always relaxed. Also, it's a major plus that you don't ever have to run while you're practicing."
Achieving the perfect shot can be hard, but with enough time and effort it is completely possible. When that first hole-in-one happens, do not be afraid to celebrate.