Basketball Senior Night
Friday, January 27, was not an average evening for four seniors participating in their home basketball game. This particular Friday was marked with a sideline full of hugs, smiles, tears, alum players, faculty, family, friends and lots of love. It was Senior Night at the Academy of the Holy Names.
congrats to our seniors! we are so proud of you and will miss you all so much pic.twitter.com/wgr4lO9aWZ

— Jag Nation (@jagnation_1881) January 28, 2017
Senior Night is a special time to honor our senior sisters and commemorate their achievements on and off the basketball court. When the celebration began, the four seniors, Devin Folkman, Jessica Galvis, Alyssa Muir, and Dominica Howard lined up on the side of the court, facing their parents. As each player was introduced, they were presented with yellow flowers and then took pictures with their families in the center of the court.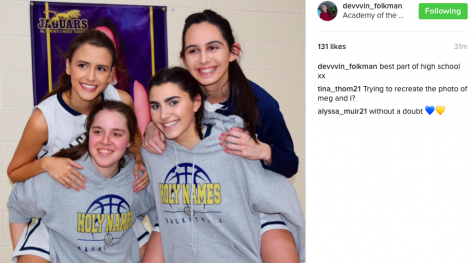 Jessica Galvis said, "I am definitely going to miss the strong bond there is between each of my teammates. This team has become so close this past season and I know that we all have each other's backs on and off the court."
"Basketball has been my favorite part of my high school experience the past four years and I wouldn't take any of it back," added Dominica Howard.
After each senior was standing with their family, a few teammates shared a few words and insight about the value each senior added to the team and also reminisced about special memories.
"I was getting really emotional because it was finally my senior night and you always think that its so far away, but the time flies by," said Devin Folkman.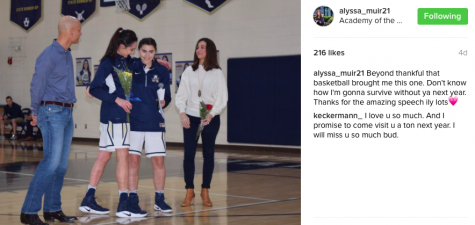 To cap off this special night, Academy of the Holy Names earned another victory (58-24) against River Ridge in their last home game of the regular season.
Alyssa Muir, who has been on the team since her freshman year, gave some advice to the incoming freshman who are planning on being on the basketball team: "Always give it your all and take it seriously and enjoy it because it goes by very fast."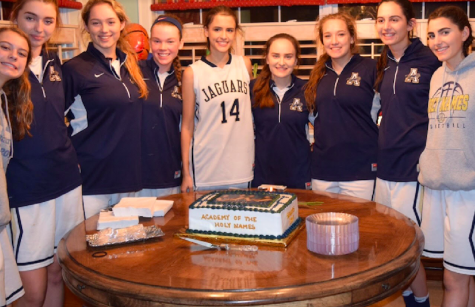 The AHN basketball family will greatly miss the four seniors next year and wish them the best of luck in college and future endeavors.