Lacrosse tryouts begins and players prepare for their fourth season
Mia Lopez, Senior Staff Writer
January 30, 2018
The 2018 Academy lacrosse season has arrived for its fourth year as a program. Tryouts have athletes excited for what is to come this season and are being held from January 29-31. This year, many returning players are ready to see new talent hit the field.
Feraby Hoffman ('18) says, "Yes I'm so excited to introduce people who have never played before to such a fun game, and I am looking forward to improving with new talent hopefully to make it far into districts."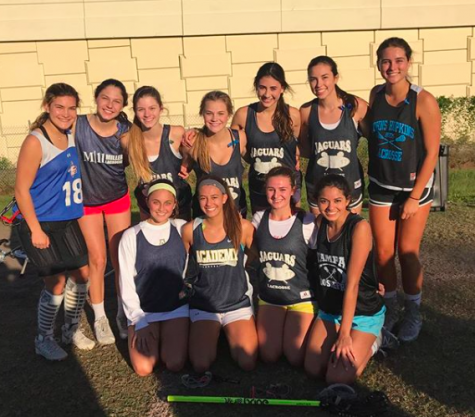 Lacrosse pre season conditioning has players feeling confident in their endurance and skills to demonstrate to head coach Ariana Louder at tryouts.
Sarah Kate Murphy ('19) says, "I'm excited for tryouts because I get to show coach my potential and how I have gotten better from last year."
Alexandra Fonseca ('18) says, "I'm really excited for tryouts and I am looking forward to this season because it is my favorite time of the year and I love playing lacrosse with my best friends."
Lacrosse tryouts consist of many skill and running tests such as four timed 300 sprints, wall ball, 40 yard sprints, 60 yard sprints, and much more. The first day is the toughest, because all of the difficult running is on that day. Many athletes said that the hardest part was finishing their last 300 sprint. Players were overjoyed once they completed these sprints, and were even jumping for joy on their Academy lacrosse instagram.
Head coach Arianna Louder says, "I'm expecting to have an experienced, close nit, and hard working team and to continue to watch the program grow and achieve its full potential."
The team roster will be revealed after the last day of tryouts has been completed, which is Jan. 31.