Attending Football Games during the Pandemic
November 16, 2020
From the beginning of the pandemic, football fans have seen the cancellation and delay of games. Months later, football is back in action, with lots of rules and regulations put in place to keep players, staff, and fans safe.
Regulations vary from sport to sport and the venue used. For example, an outdoor venue might have different rules than an indoor venue would. 
For Florida State University and other colleges, the gameplay itself is continuing like normal, though spectators will notice a lot of differences. Surrounding the outside of and inside the stadium there are signs enforcing the mask rule–everyone entering the stadium must wear a mask at all times. Social distance markers were also present outside the stadium in the ticket lines to enter. Signs inside the stadium encouraged people to wash their hands and distance themselves from others, a typical sight in these times.
Another noticeable difference to a normal football game is the marching band. The Marching Chiefs, FSU's marching band, were no longer in their usual spot, and this time were located opposite to it and distanced along the entire end zone area. Each member of the band was standing a few feet apart.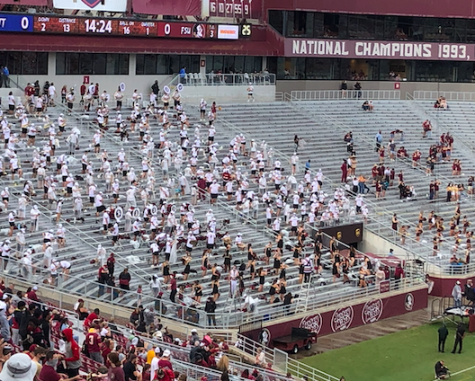 This year there was a limited amount of season passes sold. This was evident among the stands, as there were designated sections. Half of the stadium was for season ticket holders, section for single-game tickets, and a small section for the students. While a fan would normally have to pay for the stadium seat backing, it was provided to all who purchased tickets this time to indicate separated seats. 
"I have been a Tampa Bay Buccaneers season ticket holder for many years and love the atmosphere of a live game. When the Bucs announced their plans that would allow attendance I was skeptical. Having been to three games, they believe their plan to limit attendance, promote social distancing, installation of disinfecting stations, constant signage and a gentle but firm reminder from staff to always wear your mask is working. I feel they have fulfilled their mission to keep their fans safe," said JoAnne McCullough, a longtime football fan.
Similar procedures are in place at the Buccaneers football game. Separated seats and mask signs were present to encourage safety in the stadium. Another addition to safety the Bucs implemented was the "mask police", who walked around the stands to tell people to pull up their mask if it wasn't on.