Student Spotlight: Junior Sophia Pyne Verbally Commits to Play DI Lacrosse
March 5, 2021
Pyne, captain, draw specialist. Regardless of how you refer to her, Sophia Pyne ('22) is an undeniable athlete— whether it be on the court (as a member of Varsity Basketball) or the field (as a member of Varsity Lacrosse). To the excitement of her teammates, coaches, and family, Pyne has verbally committed to continue her lacrosse career at the College of the Holy Cross. 
"Sophia is a devoted athlete who truly loves the game. Holy Cross is a perfect fit for her intelligence and dedication on and off the field," says AHN lacrosse head coach and Latin teacher Ariana Newman.
I am so excited to announce my verbal commitment to play division 1 lacrosse at Holy Cross!! I would like to thank my family, teammates, and coaches. GO CROSS💜 @HCrossWLAX @tampalaxreport @HolyNamesAD pic.twitter.com/EQiSYVheVf

— Sophia Pyne (@sophiapyne22) October 10, 2020
Holy Cross is a selective college located in Massachusetts and offers a variety of athletics within the NCAA (National Collegiate Athletic Association) Division I League— lacrosse included. Perhaps of greater cause for excitement, Pyne is the first student (within Academy history) to commit to playing DI college lacrosse. 
So, as I'm sure many are wondering, how has Pyne developed such a sheer athleticism for the fast-growing game? How has Pyne found herself here, on the brink of next-level athletics? Achona has the answers. 
Please note, "Q" refers to the questions asked whereas "A" refers to Pyne's response.
Q: How long have you been playing lacrosse, and why did you begin playing? 
A: I have been playing since 3rd grade. In my P.E. class at AHN, we were playing lacrosse, and our coach (Coach Doyle) said I was actually good and told my mom that I should start playing. 
Q: How do you prepare for a game? 
A: I can't overthink [the game] and focus on myself and what I can control. I also do a lot of stretching, and I drink a lot of water. I also like to watch film pre-game, sometimes college film and sometimes film from our [high school] games. 
Q: Who is your inspiration and why? 
A: My cousins and my dad are inspiring to me because of what they have done in the football world. My mom also inspires me because I want to be like her when I am older. 
Q: How do you train during your "off-season"?
A: In the "off-season" of AHN lacrosse, I play club lacrosse where I go to a lot of tournaments over the summer. I play Varsity Basketball in the winter, but I still do wall ball and keep my stick in my hand even during basketball season. 
Q: Do you have a "mantra"? If so, what is it? 
A: I am not really sure if this is a mantra, but if I make a mistake, I tell myself to go to the next play and to not think about it. 
Q: How do you celebrate a win? 
A: I normally go out to eat with my family after a win, and I love to watch the film from the game, especially if we did really well as a team. 
Q: What about playing college lacrosse do you find most exciting? (or what are you most excited for?) 
A: Ever since I started playing lacrosse, I have wanted to play in college. I also have always looked up to college players, and the fact that I could be someone who a little girl looks up to is really exciting. I am also excited to play at the next level and to go play up north in the cold!  
Q: What do you think makes you a great athlete? 
A: I come from a family that is very sport-focused, and I think that having a family that is very successful in the sports world has helped me to be able to navigate the different aspects of sports. (My great grandfather, grandfather, and my dad all played in the NFL; I have 5 first cousins that are currently playing/have played D1 football in college) 
Q: What memory do you have of lacrosse that is most memorable/ inspiring/ etc.? 
A: My freshman year, we [the AHN lacrosse team] beat Robinson by one point in overtime, and that was a really fun and stressful game. A funny lacrosse memory is on my first day of practice in 3rd grade. I didn't know what to do, so I followed the girl in front of me, and she was a lefty. Now I am a lefty in lacrosse. (I am a righty in everything else.)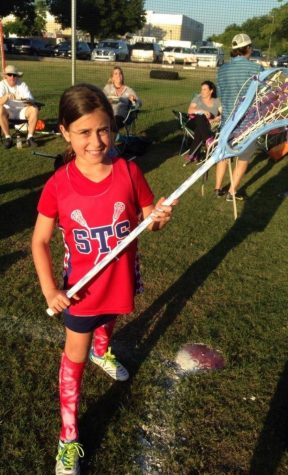 Q: Outside of lacrosse, what is your favorite thing to do?
A: My favorite thing to do is to spend time with my friends and my brothers. 
Q: If there is one thing you could tell aspiring lacrosse players, what would it be? 
A: It does not matter what your lacrosse background is or where you live. If you put in the time and hard work, you can accomplish big things. For example, I am the first person to play lacrosse in my family, and I knew no one in the lacrosse world when I first started. I had to make a name for myself in the Tampa lacrosse community by putting in a lot of time and hard work.