AHN Rowers routinely practice outside, with temperatures reaching the hundreds each day. 
Summers in Tampa are notoriously hot, but this year, temperatures have reached new heights. August ended up being the hottest August ever recorded in Tampa, with an average temperature of 85.6°F. High temperatures frequently rose above 95°F. Coupled with Florida's humidity and unseasonable lack of rain, this year's temperatures have certainly hindered the performance of AHN's student-athletes, but they are working to develop methods to protect themselves in the heat to avoid burnout and continue to perform their best.
The rowing team has certainly been on a "hot" streak, taking home many state medals and sending first and second varsity eights, as well as a lightweight double, to compete in the national championship in Tennessee. The lightweight double, led by Jordan Ritter ('24), and Kate Merrill ('23), took home a second-place national ranking. This year, the team looks forward to an even better year, hoping to send a first, second, and third varsity eight to nationals.
View this post on Instagram
The AHN Rowing Team practices five times a week, three hours each day, from 3:30 to 6:30, when the sun is at its brightest and hottest. Practicing outside with this kind of heat can be extremely dangerous to athletes if they are not prepared for it. Coaches have begun to require rowers to bring extra water and sun protection. Additionally, they have shortened practices and allowed for more time off the water to ensure athletes have time to recover from the heat. Coach Kat, AHNRC's Assistant Coach, issued a statement after a practice last week, asking athletes to "Bring at least two water bottles to practice and wear sunglasses or a hat."
Good morning! Temperatures are in the 70s for most of Tampa Bay this morning. We will approach record high temperatures this afternoon with a chance of a few storms. https://t.co/KAyrG5fTsO pic.twitter.com/3GXCKfIgyn

— Spectrum Bay News 9 Weather (@bn9weather) August 23, 2023
Because rowers are on the water for the majority of practice, they are unable to refill water, reapply sunscreen, or access first aid, if a need were to arise. Therefore, it is essential that they bring ample water and sun protection, whether by applying sunscreen before going out on the water or bringing a hat and sunglasses. Josie Chapuis ('24), a senior member of the crew team, says, "It's so hot outside this fall and I think it's really important that everyone's making sure that they're protecting themselves from the heat especially when they're outside. Being out on the water every day, it gets really hot and you've got to make sure you're taking care of yourself. Water bottles, sunscreen, a hat, and sunglasses are all great ways to do that!"
Many rowers can be seen sporting Oakleys, a stylish pair of sunglasses that doubles as sun protection. Sunglasses are important because they protect the eyes from the harmful UV radiation of the sun. Skin cancer is extremely prevalent in Florida because of constant exposure to the sun, so it is important for everyone to be protecting themselves whenever they go outside.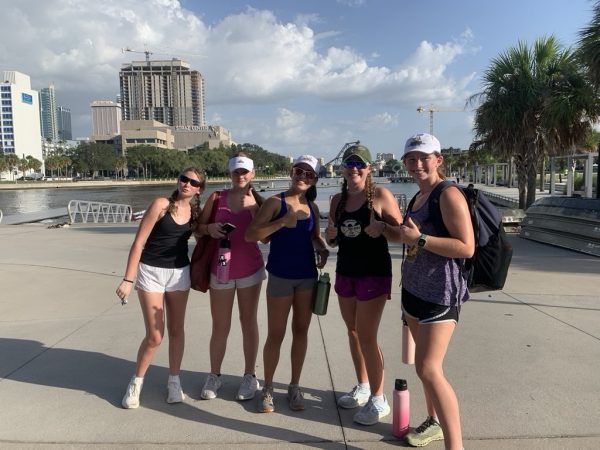 Because the rowing team has taken measures to protect themselves from the sun, they are able to perform their best at each practice to be successful in their upcoming season. Still, they look forward to the weather cooling down in the coming months.