Taylor Swift, renowned singer and songwriter, had taken the world by storm since she entered the public eye in 2006. However, in 2023, the singer only gained more popularity as she produced America's longest-running tour, The Eras Tour. Her newest publicity has been regarding her football game attendances, as she cheered on her new significant other, Kansas City tight-end, Travis Kelce, and angered the NFL community as she increased sales and viewers. 
It is no secret that 2023 has only renovated Taylor Swift's already thriving career. This is because Swift's tenth studio album, Midnights made a record-breaking debut just before the start of the year. During 2023 alone, she had performed 146 shows, re-released her third album, Speak Now (Taylor's Version), and has prepared for not only The Eras Tour Film, but for 1989 (Taylor's Version), and the international leg of her tour as well. Swift also held attention as she won nine VMAs this year, which also added to her already increasing fame. It seems that each day, Swift appears on a new headline, creating another project, which made her one of the most talked about celebrities across the globe. While her professional career has sparked numerous conversations with her fans and the population in general, her personal life has also been a popular topic since the beginning of 2023 simultaneously.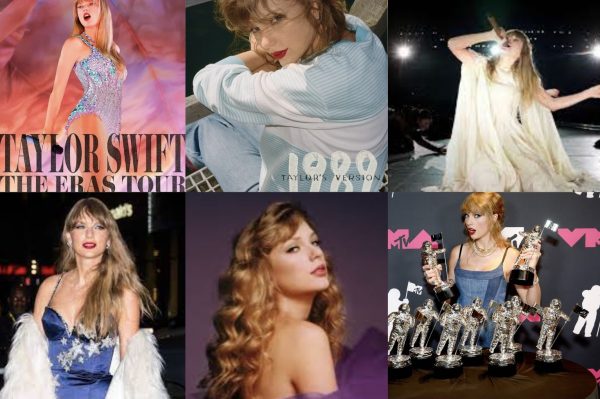 Taylor Swift experienced tons of press during April, as news went out that she had broken up with her partner of over six years, Joe Alwyn. During the midst of her tour, her private affairs were stirring up a lot of emotions, as it was seen that she cried while performing some of her more emotional ballads. However, Swift's love life was then turned around when in July, Travis Kelce attended Swift's concert in Kansas City, and he expressed his attempt to give her a friendship bracelet, which is a common courtesy amongst guests at the shows. She didn't accept the bracelet with Kelce's phone number, and Kelce voiced on his podcast, New Heights With Jason and Travis Kelce, that he took it personally. Since the friendship bracelet frenzy, numerous tabloids were writing about the Popstar and NFL star, but nothing could be confirmed nor denied. Then, the world was taken aback when Swift attended Kelce's game in Kansas City on September 24th. She had sat with his mom, Donna Kelce, in his box, and was sighted multitudes of times on TV. The pair was seen leaving together, and further surprised the media. The allegations only drove deeper when the next week, Kelce was allegedly seen leaving Swift's apartment and she wound up at his game again, this time in New York City, against the Jets. Swift this time brought her A-list buddies, such as Blake Lively, Ryan Reynolds, Sophie Turner, and Sabrina Carpenter, elevating the already high stakes between the couple. Currently, the media is enthralled with the newfound duo, as they both are very popular and content with their fame. Already the pair has been more public than Swift and Alwyn, and this time Swift's opposite is more equipped to the backlash the media can give to celebrities, which give hope to Swifties regarding the pair. 
Sophomore Ainsley Kurrack says, "I actually love them together because she needs someone who is also successful to have a balanced relationship and they can be supportive of one another." 
In addition to the publicity Swift has brought Kelce regarding their relationship, Swift has also increased his revenue. Studies show that Swift has increased the sales of Kelce's jersey by 400%, making him one of the top five best selling jerseys in the market. Taylor Swift's first NFL appearance was deemed "America's Game of the Week", having an average of over twenty-four million viewers. Some other statistics of Swift's impact include that Kelce's podcast was ranked first on Apple, and that he gained just under four hundred thousand followers across social media. The Chief's also saw an increase in ticket sales, as this season has had the highest sales for tickets in the team's history. Lastly, Swift had been put on top of entertainment searches, and Kelce trailed behind at second. These numbers truly convey Swift's unattainable fame, and the publicity she had brought to the NFL.
View this post on Instagram
 Lexi Leto ('26) describes her feelings regarding the NFL and Taylor Swift, "I think it is good because Taylor Swift is bringing more female viewers to watch the NFL, and the male-dominated industry of sports can now have a more open audience."  
The NFL community has responded both positively and negatively towards the media storm that Taylor Swift sparks for attending Kelce's games. During the Jets game, the announcer stated Swift's arrival, and the cameras cut to Swift and her friends a total of seventeen times. Broadcaster Terry Bradshaw even brought friendship bracelets and passed them around during his segment. However, specific fans brought their anger to the public, even going as far to say Swift is "destroying football" with her presence. With this controversy, the idea that many men are angry with a female star stealing the spotlight from the Chiefs at their games was brought to the media's attention. While many people think that Swift collaborating with the NFL is a light-hearted manner, die-hard fans of the game think that she takes away the true joys of the NFL. With this in mind, this backlash truly demonstrates the power Swift holds, and how numerous organizations can feel intimidated by the hold she has on society. A Tiktok trend shows women joking to their husbands about Swift "putting Kelce on the map", because of the attention she has brought to him. Ultimately, this power struggle, truly depicts how Swift has transformed society, and the idea that she can even bring attention to the NFL as a singer. 
Kelce talked positively about Swift's appearance at his game, stating, "I just thought it was awesome how everybody in the suite had nothing but great things to say about her — the friends and family. She looked amazing and everybody was talking about her in great light." The quote emphasizes how Swift had a positive first impression on Kelce's loved ones, how the two are in a happy place in their relationship.