Art Festival supports water conservation
"Water is life's matter and matrix, mother and medium there is no life without water" is the important and influential theme of this year's 2012 Annual Art Festival.
Art Festival takes place this year at Academy on April 19, from 6 to 7:30 pm. Visual Arts teacher Ms. Sylvia Musquiz and Festival Director Mrs. Sharon West, Arts Department Chair,  have been coordinating this much-anticipated night.
Not only will the Festival be exciting for art lovers but for music fans as well. At the end of the evening festival goers can expect the Quarter Notes Spring Concert directed by Ms. Linda Ruescher and Mrs. Stefanie Zummo.
This year's them will focus on water conversation to create awareness amongst Academy students. One of the many compelling statistics that art students plan to emphasize  is that 1500 water bottles are consumed and disposed of every second. To show support art students have created column-like sculptures created from empty plastic water bottles to be hung in the court yard. Senior Maddie Osborne said, "We thought it was important to give a purpose to the show other than to showcase art. By communicating this theme in posters, activities, and decor,  we hope to bring attention to the problems facing our environment. "
One of the student coordinators, Kaitlyn Garrett agreed.   "I'm excited to see the student body's positive reaction to water conversation."
Each year the art department sponsors the art festival  as a way to showcase art created in AP Studio Art, Ceramics, Art 2-D, photography, drawing, and printmaking.  AP Art student Maddie Osborn explained the criteria for exhibition.  "The work of the AP students will consist of two main bodies, one called 'breadth' which is a variety of art meant to show off their abilities with different techniques and mediums and 'concentration' which is a body of work consisting of 12 pieces all sharing a single theme."
Osborne promises that  the 2012 Art Festival will be one of a kind. "The art show this year is sure to be wonderful. Arts students and members of National Art Honor Society (NAHS) have put all their efforts into making it something memorable."
About the Writer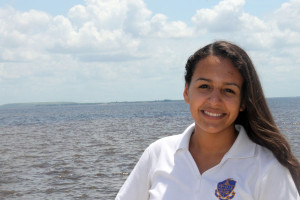 Mikela Mollanazar, Multimedia Editor
Mikela Mollanazar has been on staff for three years now, and her current position is Multimedia Editior. She enjoys spending her time creatively, either...