'Promedy' dress rehearsal forecasts success for opening night on February 22
On a beautiful cool spring afternoon the Brady Center was the hub of activity as Bayshore Players put the final touches on their much-awaited comedy Promedy, AHN's scheduled for Friday and Saturday, February 22-23.  Friday's performance will begin at 7 pm and two performances on Saturday will begin at 1 pm and 7 pm.
Senior Amanda Bell, just back from her auditions in New York for drama schools throughout the country,  shared her enthusiasm for the production.   "I'm so excited for my friends to see the show. It's definitely been a blast to work on, and different than any Bayshore Player's production that I've ever participated in."
In an earlier interview this month,  Ms. Melissa Cox, Performing Arts guru,  shared that of her chief challenges has been how to deal with costuming for the show.  "There are a lot of unique characters and my Theatre for the Non-Performer class has been awesome with taking on the challenge of creating some interesting costumes; the most interesting one being a Rubik's cube. We also have three girls in male roles, and we've been sewing pockets on shirts to give them muscles…side burns and other facial hair is next on the list!"
Ms. Cox has arranged for a set constructor to build a structure that mimics a high school hall way, much like the ones seen here at Academy. "I'm really excited about it, because it's definitely going to add depth to the stage and little more realism."
In addition, Ms. Cox notes that because the play is short,  blocking the show has been completed early.  "It's a lot of fun. Very zany energy and silly escapades; but with heart. The show itself reminds me so much of a 1980s teen movie a la John Hughes or Amy Heckerling, so we've included little nods to those films and just the music itself. Even the introduction and first scenes of the play are something I think AHN has never seen before, and I hope they like it."
About the Writer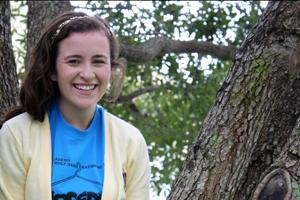 Caroline de Quesada, Co-Editor


Caroline de Quesada has been a member of Achona since her freshman year. She is president of the Jesuit Masque, Tri-M Music Honors Society, and...