Student Council incorporates 'Let's Talk About It' into vote for Vice President
Last week, tech-savvy Academy students were able to use the new Talk About It program to vote for the new Student Council Officers for the 2013-2014 school year. Girls could log into their page and select the candidate they believed would do the best job.
With the exception of the Vice President position, there was no competition for the top offices.  For the first time in several years, the future president was unopposed and therefore selected automatically. Other unopposed positions included recording secretary, corresponding secretary, and treasurer.
Campaigning for the vice president spot were juniors Laura Castillo and Mollie Snyder. Both spent the final week of February speaking about their views and trying to earn the student body's vote. The candidates used everything from tasty baked goods to catchy campaign posters  to win over the student population.
When all was said and done, only one VP came out on top.  Laura Castillo claimed her victory on Friday afternoon when the newly elected officers were announced over the PA. Other officers included Junior Siobhan Plummer for Miss President, Kirby Wallace for Recording Secretary, Rachel Anderson for Corresponding Secretary, and Francis Kratz for Treasurer.
Future President Plummer showed her enthusiasm and witty humor during the campaigning speeches that aired on the morning show last week. As she spoke about her excitement for her new position and the changes she was planning to initiate at AHN, she won over the hearts of the students.
"I cannot wait to serve the student body and make sure every Student Council function is a memorable one. As a council, we're thinking of new ways to revamp old events like Jagball. We're also thinking about instituting a "sister-system," where a junior and a freshman, and a senior and a sophomore will be paired up and can support each other throughout the school year, very similar to the system the cheerleaders have.  I think that the system will promote friendship beyond grades and be a good means of unifying the high school as a whole. Everything is still in its infant stages, and nothing is guaranteed, but the gears are already turning to ensure that next year will be a great year!"
About the Writer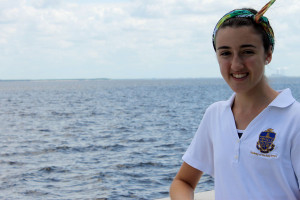 Gini Barreda, Features Editor
Although her strengths lie in writing and editing stories for Achona, she also specializes in Storify and photography. Gini is currently President of the...