Grad Bash kicks off last week of classes for seniors
The excitement didn't end for seniors after the night of Prom. The Class of 2013 spent the following evening of April 27 in the company of Harry Potter, Spider-Man, and Shrek at Universal Orlando for the annual Grad Bash event.
Thousands of seniors from across Florida, and even other states, had exclusive access to both Universal Studios and Islands of Adventure theme parks from seven at night until two in the morning.
Mrs. Edna Swafford and her husband, Ms. Judy Perrella, Ms. Danielle Groenen, and Ms. Devan Adams accompanied the seniors as chaperones.
International pop-star Pitbull made a special appearance at Grad Bash and put on a memorable concert. Alexandra Gerecke liked how Pitbull added to the overall energy of the event. "Pitbull's performance was very fun and enthusiastic. He was a great performer."
Some Academy girls had the chance to meet up with friends from other schools. Ashton Hill seized the opportunity to make sure she could find some old friends among the crowd. "I was so happy I was able to see my friends from South Florida who I had not seen for a long time."
Ceni Hoyos enjoyed every minute and considered Grad Bash to be an experience of a lifetime. "I've never been to Universal before, so I was extremely excited to attend Grad Bash and ride their well-known Dragon Challenge roller coaster. It was a good experience to share with my AHN sisters and wrap up senior year."
About the Writer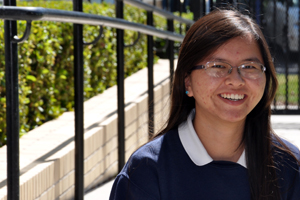 Li Stalder, Co-Editor


Li Stalder was a 2012-2013 Co-Editor of Achona. She actively supported Academy's JCL (a.k.a. Latin) Club and served as one of the club's "triumvirate"...