Bayshore Thespians take over the stage at District Nine's Individual Events
"And I proudly represent Troupe 0846…."
The moment these words are pronounced the stopwatch starts to run as judges watch the Bayshore Thespians perform. Time is running and they only have five minutes to present an individual event such as contrasting monologues, duet acting, duet musical, or solo musical. Troupe 0846 sacrificed a Saturday to visit Wharton High School on October 19 in order to compete in District Nine's Individual Events competition. With play scripts all over the floor, loud prayers, and motivation, our girls got plenty of  support to start the dramatic day; and left with new friendships, experiences and awards.
First in the spotlight was sophomore Rebecca Parrillo, who presented two contrasting monologues from the plays, High School Musipocalypse and Common Ground. "I was nervous because I was the first, and it's also my first year competing at Districts, but seeing all my girls in the audience made me feel like it was just another practice [in Ms Cox's classroom], and I wasn't nervous anymore."Rebecca finished her monologues and could not contain her excitement later that afternoon; she had received a rating of Excellent, the second highest recognition possible.
One thespian done for the day, thirteen more waited in anticipation; and sophomore Gracie Hancock was next in line. Presenting her costume design from the play August: Osage County. She received a rating of excellent as she was cheered on by her teammates.
The next events of the afternoon consisted of two contrasting monologues by sophomore Alejandra Lozano and junior Maggie Brekka. Following, senior Gaby Mendez performed the first musical of the day, "Part of Your World," from The Little Mermaid.
After Gaby's display concluded, the troupe anxiously awaited for Ms. Melissa Cox, troupe sponsor, to communicate the results. Cox was filled with pride and joy as she heard the girls scream in delight. Gaby tackled Cox and her fellow Academy girls in bliss as they discovered she had received a rating of Superior, the highest recognition award. Mendez would be the first of our troupe to receive a Superior that day.
After jumping, screaming, and "fan-girling", the girls took a well-deserved lunch break thoughtfully provided by Wharton. During lunch, Wharton students Torrey Crosby and Tylah Knox approached our troupe offering to sell some fabulous bracelets that would benefit Broadway Cares. The theme of the Bracelets was "Dia de los Muertos" and the profits would go to Equity Fights Aids. By the end of the day the student body raised $1903.80 for the cause. Our girls performed both theatrical events and acts of kindness which brought them closer as a troupe. The thespians now have matching bracelets and a kinder heart!
Satiated from their meals, the thespians put back on their "drama face" and started practicing for the upcoming events.
Next to perform was a duet acting scene by sophomore Alejandra Lozano and junior Lexi Nieto. The girls performed a scene from The Odd Couple (Female Version). Lozano and Nieto received an "Excellent" for their performance as well.
Following them were several musical events in a row: first, Jessica Riddle with a solo musical, next sophomore Emilie Ulbricht , a duet musical from seniors Hilda Delgado and Jessica Riddle.
Closing the day, a group of three freshmen,Valerie White, Sydney Sommer and Jhuztin Honrado performed an ensemble acting scene from the play Three Tall Women, and a large group of eight actresses, Lexi Nieto, Rebecca Parrillo, Megan Glogowski, Gaby Mendez, Valerie White, Emily Herbert, Jessica Riddle and Hilda Delgado entertained the judges with a musical number, "Swamps of Home," from the musical Once Upon a Mattress. Although this performance demanded the girls to spend long hours after to school to practice the one song, the effort definitely was well compensated for; accompanied by tears and hugs, they celebrated the coveted rating of Superior.
Being a thespian is a unique experience that changes your high school experience completely. Kendra Marquez from Plant High School troupe 817 comments that for her, being a thespian means "Remembering that at the end of the day, you are performing, and it is what you love to do. Even if you get nervous, if you finish and have fun with it, you've done your best, and your troupe will be proud of you no matter what."
She explains that whoever is a thespian is a part of the family. Thespians around the district come together in this competition to celebrate what they love to do, perform. Perform to release stress, perform to bring joy to others, however you want to perform, make it yours, because it is the best you can do.
Isabella Mercia from Blake High School troupe 5742 affirms that the best thing about the experience is "getting to see the variety of talent from other schools."
Ricardo Soto from Alonso High school troupe 6299 agrees, and says the most memorable moment of closing ceremonies is "Spending it with troupe, being full of energy and just having fun no matter what. The best is when you sit next to someone from another school, and in the following ten minutes you two have become friends."
With such accomplishments at this district competition, the girls have been allotted to compete during the State Festival this upcoming March in 2014.
Individual Events were definitely an event that our thespians will remember, but now that it is over, it is time to prepare for One Acts and State.
The show must go on!
[nggallery id=348]
View Comments (1)
About the Contributor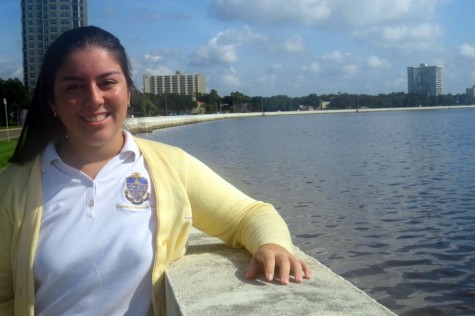 Alejandra Lozano, Editor in Chief
Alejandra Lozano is a senior at the Academy, a fourth year journalist, and an Editor-in-Chief of the Achona. Her favorite subject is AP Lit and some of...