Blessed Marie Rose teaches us to be strong, humble, and courageous
In celebration of the Feast Day of Blessed Mother Marie Rose Durocher, the Academy family gathered together in the Brady Center  for a beautiful mass on October 5.
Academy President, Art Raimo, opened with a brief speech about the impact that Blessed Mother Marie Rose and the Sisters of the Holy Names of Jesus and Mary (SNJM) have had on the Holy Names institutions around the country and around the globe. He also expressed that the Feast Day of Blessed Mother Marie Rose unifies our school with other Holy Names Academies.
Father Steve Ryan, SDB, director of the Salesian Community of Tampa and Mary Help of Christians Center led the mass and captured the attention of the entire room with the homily about how Blessed Marie Rose was strong, humble and courageous through all trials and tribulations during her life. We as Catholics, should strive to also live as she did. Father Steve put a weight around his neck to symbolize how life may bring hardship, but we must fight through and be strong. He also used the story of a young girl who was saved in a fire to emphasize how we should live life to its fullest.
The story took place during the time of a fire in a school in Chicago, IL. A young girl saved her friend's life and died in the fire. The girl who lived  wasted her life away, failing school, making poor decisions, and lounging about at home, doing nothing. The mother of the deceased girl soon paid her a visit and told her that her daughter had died to save her life. She pushed her to get off her couch and live to her fullest potential.
The Mass  also included an induction for all new Eucharistic Ministers and the traditional and heartfelt presentation of the roses to all SNJM sisters.
The ceremony concluded with an upbeat song courtesy of the Worship band, Camerata, accompanied by accompanied by Ms. Linda Ruescher on the piano.
Everyone's hearts were filled with joy in celebration of Blessed Mother Marie Rose  and the SNJM sisters that hold on to the traditions and values that our foundress established long ago.
Leave a Comment
About the Contributor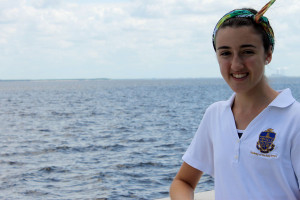 Gini Barreda, Features Editor
Although her strengths lie in writing and editing stories for Achona, she also specializes in Storify and photography. Gini is currently President of the...