Foxy fathers and daughters in diguise: planning for the annual Father/Daughter Dance
Cheers erupted from the Brady Center as Mr. McKown and his daughter Khalei walked to the stage to receive his Foxy Father crown. The winner of the Foxy Father was decided by the student body based on the pictures of the Seniors' fathers. Academy girl students
Are you in need of a fun night of costumes, dancing, food and father-daughter bonding time? Well look no further, because Student Council is putting on their annual Father/Daughter Dinner Dance on Thursday, October 10 in the Brady Center.
Since the dance is taking place during the spookiest month of the year, it is only right that this event is Halloween themed! This is a perfect opportunity for you and your dad to get creative and think of the perfect matching costumes to show off. Senior Elaine Petrarca  comments on all the preparation for the upcoming dance, "Choosing a costume is hard. [My dad] shot down my 'minions' [from Despicable Me]  idea, but it's okay, we're going as a sandwich." No need to worry about school the next day, either, as it's the end of the first quarter. Make sure you dance to your heart's content and make the most of every minute, spending quality time with your father.
If you plan on attending the dance, you need to get a table setting from your Student Council Representative. Fill it out, and turn it in by October 1st with the $35 per person payment. If you have any questions don't be afraid to ask a representative. The night will officially kick off at 7p.m., but starting at 6:30 you will have the chance to get official photos taken with your father.
Seniors have already begun submitting a pictures of their fathers for "Foxy Father", which the student body will vote for the day before the dance, October 9. This year's Foxy Father will have their photos posted on the bulletin board on the second floor foyer for everyone to admire. The winner will be announced at the dance, Thursday night.
Leave a Comment
About the Contributor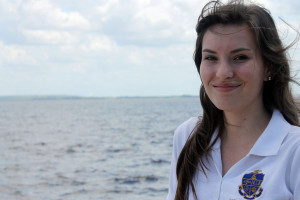 Megan Glogowski, Senior Staff Writer
When senior Megan Glogowski isn't writing an article for Achona, you
can usually find her laughing with her friends, fangirling over
musicians, and randomly...