Quarter Notes spread holiday cheer for all Scrooges
It's almost time for Christmas, and it looked like the AHN campus could use a little help getting into the festive spirit. Perhaps a bit of Christmas carols would get the students feeling a bit more sentimental? No worries; AHN's Quarter Notes took the job. Tuesday, December 10, these Academy showgirls sang and danced to Christmas favorites for all to enjoy.
Since Christmas is only once a year, many students could hardly sit still as the clock ticked toward show time.
"I was so excited beforehand! " Senior Sara Allison cheers, "I love the Christmas show, it's always so much fun."
But with the show planned to take place during the second half of study hall, some students were feeling less than "holly jolly."
"I was a little upset that I was missing most of study hall," says junior Claudia Montilla. "It stressed me out a little, actually."
However, despite the seemingly inconvenient planning, by show time, everyone could be seen clapping and singing along to some of the tunes. From the pop song by Mariah Carey, "All I Want For Christmas is You," to acapella melodies like "Carol of the Bells," everyone in the audience sat in anticipation for what these young performers would do next.
"My favorites were the acapella covers. The harmonies were tantalizing!" Montilla adds, recalling the melodies from the performance "I got goosebumps [when] Hilda Delgado sang her mini solo during "Silent Night."
Allison, however, preferred a more interactive song, "My favorite song was the last number, 'Baby Please Come Home'. I loved the energy and the choreography."
By the end of the show, one could definitely feel the Christmas cheer spiraling throughout campus.
Allison could still be heard humming along to her favorite song, "It definitely got me into the Christmas spirit! I had those songs stuck in my head for the rest of the day!"
Montilla agreed, also claiming that the songs could not escape her mind, "…though I'm a tough critic. The choreography was a little awkward; I preferred the part where the girls' singing talent was showcased. But I really enjoyed my friends' performances!"
[nggallery id=358]
Leave a Comment
About the Contributor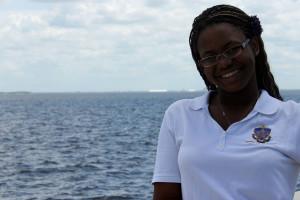 KeTaira Phillips, Golden Veins Editor
KeTaira Phillips, Achona's Creative Media Editor, greets the room with a bright smile and charisma to spare. In her free time she's normally doodling,...