Kwasi Enin Ivy League achievement sparks affirmative action argument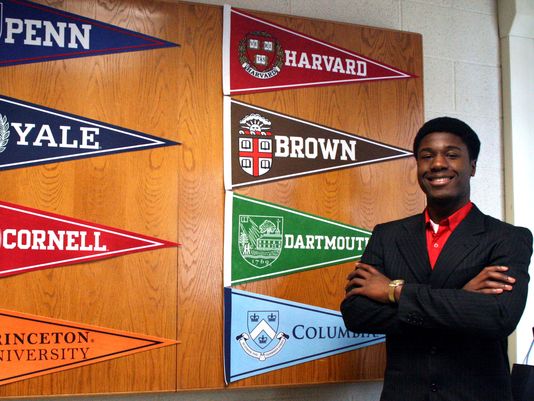 On March 27, a slew of high school seniors received their admissions decisions.  Among them was 17-year-old,  Kwasi Enin, a student at William Floyd High School in Long Island, NY.  Enin was accepted to not one Ivy League, but all eight.  The unprecedented achievement is something to be praised, however many are attacking Enin's immigrant status and race.  Even worse, many commentators have judged Enin without any consideration of his impressive credentials.
Enin scored a 2250 on the SAT, is ranked 11th in his class, is talented in athletics, music and theater, participates in student government, and volunteers at a local hospital.  Very rarely do we find students that are able to balance a spectrum of extracurricular activities while keeping up with their schoolwork.  Yet, despite all of this, news sources across the country have made a point to mention Enin's race and background.
What should have been a story about a young man's incredible accomplishment, has turned into an argument over the fairness of affirmative action.  Should ethnicity play a role in the college admissions process? Should admission committees strive for diversity but at the cost of merit?
During my own application process, my peers have brought up my ethnicity and how it gives me an advantage over Caucasian students.  Whenever faced with these comments, I wonder if I truly "deserved" my acceptances or if I was admitted to fill a predetermined quota.  But then I realized that my ethnicity had nothing to do with my success in the classroom and that I, nor my application, is not defined by a checked box.
In the 1980s, Enin's parents emigrated from Ghana to the Unites States.  Both have worked as nurses and have done nothing but push Enin to work hard and follow his dreams.  Enin's parents came to the Unites States with the idea that it is the land of equal opportunity, not equal results.  I think many students have a sense of entitlement when it comes to the college admissions process.  They believe that if they fit an institution statistically then they deserve a spot in that institution, but with more schools taking on a holistic admissions approach, a high GPA and SAT score are not enough to be admitted.
We do not know what the Ivy League admission board is looking for.  They could have chosen Enin for his proficiency in music or for his commitment to student government.  Maybe they admitted him because he was from Long Island, NY. There are many factors that go into the college admissions process, factors only known to admissions staff.
Systematic racism is an unfortunate truth of our society and runs rampant daily. So as a result, many institutions have done their best to help out minorities, who have been and are disadvantaged based on their background.  I think it's time that we stop undermining others success and focus on all the hard work Kwasi Enin put into his unparalleled endeavor.