Rachel Anderson's student council win promises "monumental change"
This year's student council election was filled with many promising candidates. After many nervous days of campaigning, Rachel Anderson won the Student Council Presidential Election. Running on the campaign slogan, "A monumental change", I got the pleasure to ask Rachel herself on how she is planning on making this change.
Congrats on winning the election! What are some of these monumental changes you are going to be making next year?
"Thank you. The main change I want to see next year is within the student body. I want to put on the best events as possible to really hype up the jaguar spirit. Like I said in my speech,  I believe that together we all can make this monumental change, so I hope with the help of my peers we can make next year the best year yet."
What went through your mind when you heard your name called?
"When [Assistant Principal] Mrs. Buono said my name, I started screaming. In my mind I remember thinking 'I did it.' It was the best feeling to know that all the work I had put into my campaign had paid off."
Are you looking forward to being on the morning show every morning?
"Being on the morning show is probably one of the things that I am looking forward to the most. I know it's only a short time, but I want to make sure I can pack in as much entertainment as possible."
After the interview, Rachel ended with: "Ever since freshmen orientation, I had always dreamed of one day becoming president. I am so happy and blessed to have been chosen and I am really looking forward to a great year!"
Other Officers for the 2014-2015 school year are:
Vice President- Olivia Diaz
Treasurer- Kelsea Henry
Secretary- Jane McLaughlin
Corresponding Secretary- Karlee Knipper
About the Writer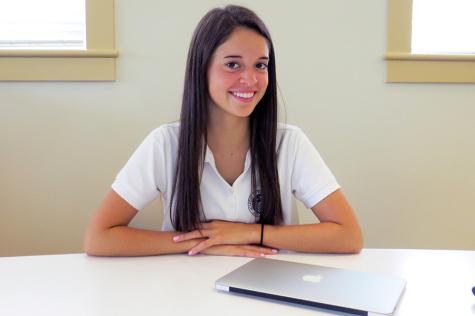 Gaby Ruiz, Arts & Entertainment Editor
Senior Gaby Ruiz has been on Achona since Sophomore year. She's Arts and Entertainment Editor and Captain of the Jaguarettes Dance Team. She enjoys watching...