You Can't Stop Academy's Beat!
Gaby Ruiz, Arts and Entertainment Editor
March 5, 2015
For the first time in Academy history, AHN students performed the iconic musical, Hairspray! This play takes place in Baltimore, Maryland in the 60's and is about a young girl, Tracy Turnblad, who lands a spot on the hit Corny Collins Show and tries to show her passion for integration. Mrs. Viviane Kimbler, the play's director, dedicated months of hard work and dedication into making her first play at Academy a tremendous success.
Sophomore Allie Pazzi, landed the main role of Tracy Turnblad. Her sweet, bubbly, energetic personality allowed her to easily encompass this enormous role. Pazzi, along with many other dedicated students worked on perfecting this musical since the beginning of the school year. This musical was not simply an Academy student production, students from all around the Tampa Bay area were involved! These dancers, singers and stage hands all came together to make this happen.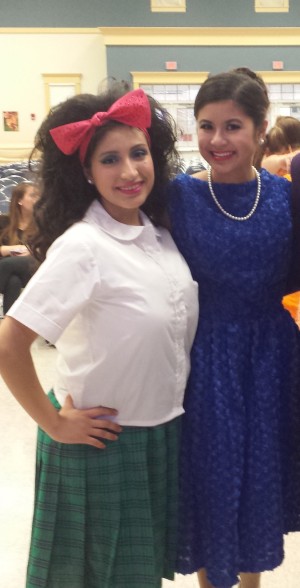 I sat down with Allie Pazzi, and asked her a couple questions about her play experience.
Is being in plays a hobby?
Yes, it's a hobby! I did plays at Villa Madonna in middle school and I always had a lot of fun with it, so I just decided to go for it again this year!
How did it feel to be new at Academy and have the lead role as a sophomore?
Everyone was really nice to me, so there was no pressure from my friends. I'm now really good friends with all the cast members and I'm so thankful for that! Overall, it was a really great experience for me and I'm glad I tried out.
How did you manage your time with school work and play practice?
Well, I didn't get ANY sleep during tech week. I dedicated most of my time to Hairspray and did as much of my work as I could during study hall. We started practicing in November, so I've had a lot of time to adjust.
The play was performed three times. Opening night was Friday, February 27th at 7 pm. It was also performed Saturday at 1 for a special matinee performance, and a final run through at 7. Blood, sweat and tears were put into this show, but it was all completely 100% worth it. I spoke to Mrs. Kimbler about her first play performance at AHN, "Directing my first show at AHN was a wonderful experience. The majority of our cast members were in a show for the very first time…this means the desire to try theatre is there…and this is very exciting to me. There is nothing like live theatre and the immediate response you get from the audience. It's very exhilarating. I am extremely proud of these kids!"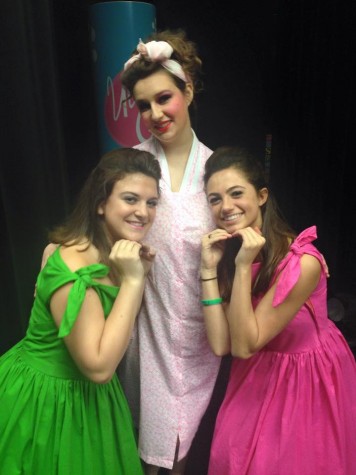 Students, Faculty and Staff have been raving about the play since the very first night. It's amazing to think that the set design was made by our very own students. Each sign, hairspray can and costume was perfectly modeled after the play. Mrs. Kimbler even hired a makeup and hair artist to perfectly craft Tracy, Penny and Edna's poofy hair and dramatic makeup.
This is only the beginning for AHN theater. Since there is going to be a new theater building built in the future, theres so much more room for potential. Everyone has high hopes for next years play. Mrs. Kimbler gave me some advice on next years theater to pass along, "Looking ahead to next year we have many wonderful things in store for those students that did not have an opportunity to participate this year! Keep the energy strong, keep working hard and believe in your heart that the best is yet to come! I can't wait!"