Academy Alum Emily O'Loughlin prepares to film Pope Francis' upcoming visit to America
It is no secret that Academy is a great school that produces women who are confident, compassionate and ready to take on the world. Academy graduate (Class of 2009), Emily O'Loughlin, daughter of Academy librarian, Michele O'Loughlin, is doing just that. O'Loughlin is attending school at Catholic University of America where she works as a videographer. Her next subject is none other than Pope Francis.  
At Academy, O'Loughlin was a swimmer and was very involved in the Arts. O'Loughlin credits all of her photography skills to Academy's past art teacher, Mrs. West. Photography has helped her a lot with her videography work. O'Loughlin has been working as Catholic University's video production assistant for five years. She films masses, classes and anything else that the university asks her to. Along with being video production assistant, O'Loughlin is a full time student. She is in grad school working on getting her masters in architecture. O'Loughlin focuses on sacred spaces. She spent the summer in Ireland building a memorial for the potato famine. The purpose of this memorial is to attract tourists to the poor town.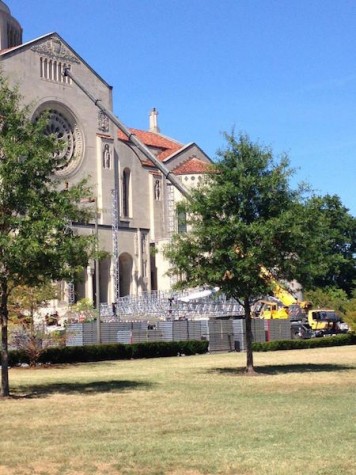 Pope Francis will arrive in D.C. on Tuesday, September 22nd. Junior, Ann-Marie Heath explains, "I have a connection with the Pope and I am very excited to have him in the U.S. I look to the Pope for guidance and I want to be like him in regards to my faith, love, and tolerance." On Wednesday he will be giving a mass at Catholic University to canonize franciscan missionary, Junípero Serra. O'Loughlin will be filming the mass along with all of the "prepope festivities" as Mrs. O'Loughlin described them. Before the pope's arrival the people of Washington D.C. will be participating in a walk called, Walk With Francis. The Archdiocese organized this walk to bring the community together to do service and ministry. O'Loughlin will be participating in the walk along with filming it. Preceding the Pope's arrival, Catholic University hosted a contest to the design where the Pope will sit at CUA. This contest is open to Architecture and Planning students at CUA. O'Loughlin participated in this contest, and though she did not win, she was able to help the winner make the Pope's chair.
Everyone in the United States is looking forward to the Pope's arrival next week and especially everyone at the Academy. Academy math teacher, Megan Dubee hopes that, "Pope Francis will inspire the people of the United States to a deeper faith in God's love, mercy, and providence through his speeches to Congress and the UN, Masses in Philadelphia, New York, and Washington DC (including the canonization of Junípero Serra, a Franciscan missionary in California), and his presence." The Academy community is tremendously proud of Emily and all that she has accomplished. The faculty and students wish her the best in her future endeavors and know she will continue to represent a true Academy girl.