AHN Is Officially An "Apple Distinguished School"
Academy of the Holy Names is ecstatic to announce that it has been named an Apple Distinguished School for the 2016-2018 school year! Apple Distinguished Schools demonstrate the use of Apple products such as apps, hardware, content to further advance creativity and collaboration in classrooms, as well as actively engaging students in exploration and inquiry.
High School Instructional Technology Specialist, Mrs. Deborah Collins, states, "We had to be nominated to receive an application by our Apple Development Executive, so not just anyone can apply. Our Apple Development Executive has been to our school a few times over a couple years to see what is going on and to see how we are integrating technology in our school."
There are Five Different Practices that schools must exemplify to be considered an Apple Distinguished School:
Visionary Leadership
Shared Leadership – School leaders take collective ownership of the initiative.

Individual Leadership – A credible and inspirational thought leader sets and articulates the vision.

Community Engagement – Broad community sponsorship supports the institution's initiatives.
Innovative Learning and Teaching
Student Learning – Learning is a personal experience for every student.

Instructional Practices – Faculty are master learners who expertly guide their students through difficult and complex tasks.

Curricular Design – Innovation and rigorous curriculum is redesigned to leverage technology.
Ongoing Professional Learning
Relevant and Timely Professional Development – Faculty engage in a cycle of inquiry that promotes reflection, experimentation, and sharing.
Compelling Evidence of Success
Research Practices – Data routinely collected, analyzed, and shared to inform progress and measure success.
Flexible Learning Environment
School Design and Facilities – Facilities and schedules are designed to maximize learning opportunities that technology provides.

Information Technology – Information Technology (IT) infrastructure supports innovation in teaching and learning.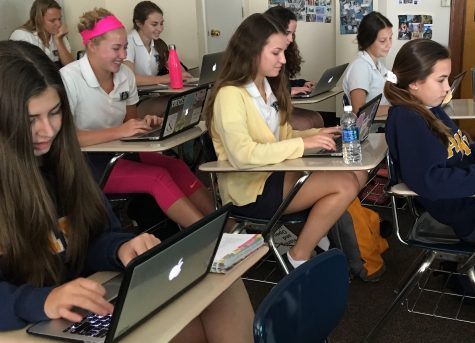 "There are only around 200 individual schools like the Academy of the Holy Names worldwide that are considered to be Apple Distinguished," Collins adds.
With using Academy's 2:1 program, students from grades 5-12 utilize both an iPad and MacBook Air devices.
"I like the fact that when students use Notability to write their journals, they can't lose them. So if they send it to me, and somehow I can't find it, it's extremely easy to recover the lost document," states Theology teacher Felix Kalinowski.
Academy's technology program allows teachers to provide instant feedback to their students using apps like Google Classroom, DropBox, Haiku, Socretive, and many more.