Academy Says Farewell to the Class of 2018
May 25, 2018
On May 23, 2018, the graduating Class of 2018, bid farewell to Academy at a special ceremony where the entire student body came together for the last time this year.
At the ceremony, Gretchen Swenson ('18) and Alex Smith ('18) gave speeches that highlighted their favorite memories at Academy. In Swenson's speech, she talked about her memories doing cheer, and she pointed out that the Senior class was the first class to not have the senior lounge take away.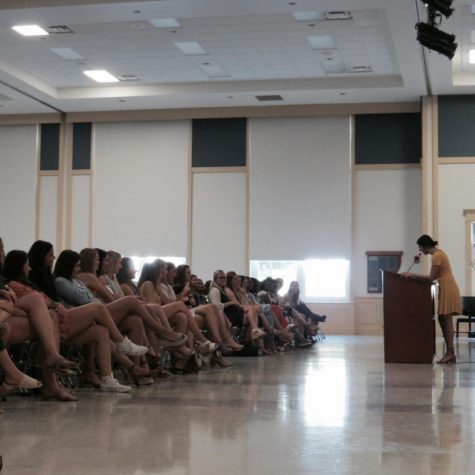 Angelina Gonzalez ('20) says, "I liked Alex's speech because the poem was very creative and entertaining."
Academy also recognized the first winner of the Blessed Marie Rose Teacher of the Year award. This year's recipient was science teacher, Rebeca Zambrano. The award honors a teacher that has most exemplified the words of Blessed Marie Rose, "I have come to cast fire upon the earth, and would that it were already kindled."
In Zambrano's 24 years at Academy, she has started the Dominican Republic Mission trip, the blood drive, and the Hunger banquet. 
Zambrano says,  "I was surprised and very humbled because I didn't think I would get the award, I always feel like there is room for improvement and I strive to do better."
The most popular part of the ceremony is when the Senior Video is finally shown, this year the video was made by Olivia Fernandez.
SaveSave
SaveSave