Class of 2023 Attends the Sophomore Retreat
December 7, 2020
On Friday, Dec. 4, the sophomore class, along with upperclassmen leaders and various faculty members, met in the Brady Center to attend the sophomore retreat.
While retreats have been held off-campus in years past, off-campus trips are not permitted this year, causing it to be held at the Academy. This retreat was also different because it was offered virtually through Google Meet so that all of the sophomores were able to participate.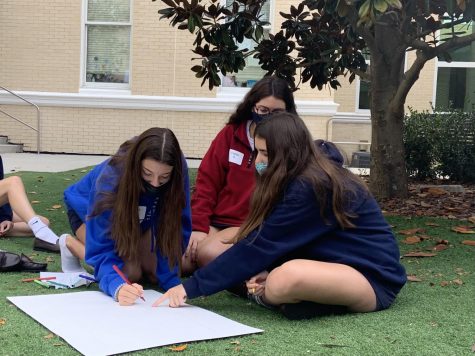 "It was very different from freshman retreat, yet it was still overall a very fun and exciting experience," said Sara O'Connor ('23).
The retreat centered around the theme "Daughter of God, Remember Who You Are." It offered students a chance to reflect on their faith and identity in order to grow spiritually. It focused on the girls' identities as young women of God.
"For this retreat I really wanted the sophomores to recognize the theme of being a daughter of God and how much he loves you. God is a King who could have chosen to call us his servants, his subjects, his peasants, but instead chose to call us his daughters for which he has unconditional love," said Retreat Leader Mikayla Croissant ('22).
After turning in their phones and receiving their name tags, students started the day by playing a game of "Would You Rather" and doing a breathing exercise led by upperclassmen. Once the students settled and opened with prayer, the upperclassmen began to give talks giving guidance to the sophomores.
The first two talks were given by Stella Mele ('21) and Brooke Kubiak ('21) about loving yourself and seeing yourself from God's point of view. The next two were given by Alison Perez ('21) and Angie Prince ('21) about finding your true self among true friends.
After these four talks, students were split up into small groups led by upperclassmen to discuss the talks and grow in their faith. Each group was named after a biblical woman, emphasizing the theme of finding identity as women of God. In their groups, students participated in an activity about the qualities of friendship, making a poster detailing them in a creative way.
Students returned to the Brady Center to present their posters and were then split into groups again, this time for different creative ways to pray. Prior to the day, students were asked to fill out a survey about their preferences for these activities. The options ranged from writing poetry to dancing to making floral arrangements, and students were asked to pick their top two options. These surveys were then used to sort students into groups to pray through one of the activities offered. The prayer time was split into three 30 minute sessions, with two of them dedicated to the creative prayer activity and one dedicated to time in the chapel for reflection.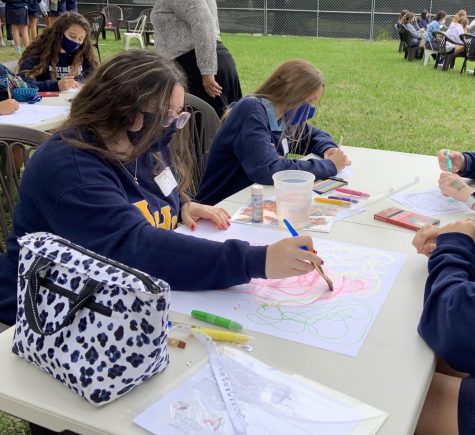 "I was pleasantly surprised with how fun and inspiring this retreat was. I thought this was a great experience to grow closer to my AHN sisters and reconnect with God," said Sophie Odmark ('23).
After the sessions ended, students returned to the Brady Center for lunch before launching into the final talks, given by Kailey McDonald ('21), Olivia Mortellaro ('21) and Angie Pena ('21). These talks centered around finding God in times of trial. After these talks, students met again with their original small group to discuss and learn about different virtues.
To close the day, students participated in Mass, in which the products of their creativity from earlier were featured. The floral arrangement station handed out flower crowns, the art stations presented their projects, and the dance and singing students performed.
Students ended the day by leaving with a handwritten note personally addressed to each of them containing a Bible verse. The day gave the sophomores the opportunity to grow closer to God and to their fellow classmates, as well as a chance to learn from the upperclassmen.