Academy girls jam out at Rock of Stages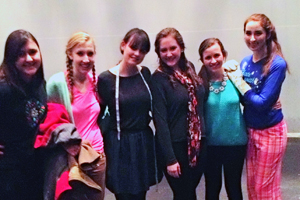 The Bayshore Thespians competed in their first one-act festival held at the University of South Florida on Friday, December 7. The event, called Rock of Stages,  featured three days of performances from high schools across the Bay Area, culminating with a rock concert on Friday evening.
The competition was fierce. Many of the schools have established performing arts programs and set aside rehearsal time during the school day. Nevertheless, Academy students Meghan Wallace, Amanda Bell, Emily Dever, Khalei McKown, Caroline de Quesada, and Sara Allison made up an all-star cast that stole the show.
Underneath, directed by de Quesada, can be viewed as a thirty-minute Lifetime movie featuring both comedic elements and touching moments. The debut was met with applause from students of all schools.
Academy drama teacher Ms. Melissa Cox was very proud of the cast and crew who participated.  Jesuit drama teacher Mr. Austin Freeman also attended the festivities and was excited to see the girls compete.
The Bayshore Thespians hope to make the one-act festival a lasting tradition at Academy. Senior Meghan Wallace was happy that she had the opportunity to participate in the first year of Thespians.  "It was the best experience in my entire theatre career. Keep on and Thespian on!"