Herb Ritts exhibit at Ringling inspires art students
Art students recently found inspiration from art galleries at the Ringling Museum of Art in Sarasota on March 1. The students of different art classes immersed themselves not only in the featured art exhibits, but also in the natural beauty and architecture of the location.
Despite a chilly morning, the weather turned out to be perfect for strolling outside in the rose garden and along the grounds of the Ca' d'Zaan Museum.
The serene setting allowed students to complete drawing or photography assignments with ease.
AP Studio Art students had the chance to tour the Paolo Veronese: A Master and His Workshop in Renaissance Venice exhibition. As stated on the Ringling's website, Veronese is best known for his grand ceiling paintings and large scenes of Biblical feasts.
Another popular exhibit among the Academy artists was Herb Ritts: L.A. Style. Herb Ritts, a Los Angeles-based photographer, rose to fame with his iconic photographs depicting fashion models, nudes, and celebrities. The exhibition highlighted some of Ritts's vintage prints and magazine covers.
Senior Alex Diaz praised Ritts's work. "The field trip to Ringling was unforgettable. The photography exhibit from Herb Ritts was absolutely stunning and inspiring."
Art history student Cara Millburg also appreciated the photography exhibit and the overall experience at Ringling. "I learned that Herb Ritts photographed several of my favorite celebrities and captured the beauty of the human body perfectly. I am so grateful that our art department values these trips to Ringling, and I am so happy I was able to go this year."
The following students attended the field trip:
Photography: Maggie Brekka, Olivia Brink, Courtney Farrior, Caroline Kimbler, Elena Moore, Tiffany Reyes, Nidya Rojas, Alexandra Diaz and Madison Morgan
Drawing I/II: Alana Adams, Argie Cabalan, Karen Cornett, Nora Johnson, Jessie Jurado, Samira Mantri, Claudia Montilla, Mia Perez, Shae Timmons and Molly Von Behren
AP Art History: Lauren Ayers, Alex Bajo, Cailin Dunne, Gracie Gonzalez, Marisa Infante, Cara Millburg, Angelina Oliva, Emily Rodriguez and Meghan Wallace
AP Studio Art/Portfolio I: Emily Jeffery, WinDi Sanchez, Morgan Welsh and Michelle Ebrada
About the Writer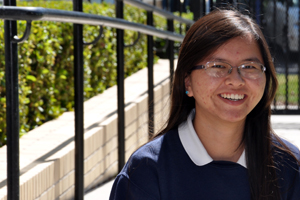 Li Stalder, Co-Editor


Li Stalder was a 2012-2013 Co-Editor of Achona. She actively supported Academy's JCL (a.k.a. Latin) Club and served as one of the club's "triumvirate"...