'Promedy' turns out three hit performances
Laughter and excitement echoed throughout the Brady Center North as the Bayshore Players performed their hilarious play Promedy on Friday and Saturday afternoon and evening, February 22 and 23. The cast celebrated their senior sisters Amanda Bell, Meghan Wallace, Gabriela Henderson, and Arlyn Barlaan's last high school play with a beautiful bouquet of flowers for all their hard work and time on Friday evening.
Traditionally, the cast honors the seniors after the final performance, but original lead actress Meghan Wallace had an important college scholarship interview for Rollins College on the same day.  Senior Amanda Bell stepped in for Wallace on the night of her absence.  "It took me a few weeks to learn Meghan's lines, but I was happy to do it."
The play revolves around the cliché idea of prom as the most important night of high school. When Dante decides to cancel the prom after getting turned down from his ideal date, the students of Lowzund High School are determined to get the dance back on.
The comedy incorporates classic songs from the 80s and the themes of romance and drama. Sophomore Lexi Neito, who played Dr. Funky, enjoyed the choice of songs.   "This show wasn't a musical, so there weren't really any songs we sung ourselves. My personal favorite was my theme song, which was a theme from a Pokémon game."
The show featured many funny one-liners that the crowd and the cast enjoyed.  Some of the favorites included "Well, turns out I'm a stud,"  concludes Chester, played by Jesuit sophomore Ryan Lowman,  and "I'm not cryin', it's just the wind in my eyes!" explains Tanner, as played by Jesuit sophomore Christian Peña.
The cast started rehearsals the day they came back from Christmas vacation, January 3, practicing four days a week from 4 to 5:45, and five days a week as the show came closer.  Their stellar performances reflected the many hours they spent perfecting the set and script.
The cast and Nieto continue to participate in plays at AHN because of the joy it brings them and the audience.  " I've always loved performing and making people laugh. It's one of my favorite things to do and I hope to continue it for the rest of my next two years at Academy."
Being her first year teaching at Academy Preforming Arts teacher, Melissa Cox, was proud of her performers. Cox has always enjoyed theater and the bonds of friendship that it forms. "The best part of the entire experience [for me] was watching the students grow from being a little shy and awkward around each other, to a really cohesive unit that would help each other out, make each other laugh, and work together through the "guts" and the "glory". That's why theater has always been so important to me, not only for the experience, but for the new friends you make."
PROMEDY CAST LIST
Beatrix…………………………………………………………MEGHAN WALLACE
Dante…………………………………………………………..SHERINE HAMADE
Chester………………………………………………………..RYAN LOWMAN
Kay……………………………………………………………..ARLYN BARLAAN
Professor Mustashay……………………………………….GABRIELA HENDERSON
Lee……………………………………………………………..MEGAN GLOGOWSKI
Tanner…………………………………………………………CHRISTIAN PENA
Dr. Funky and the Surgeons……………………………….LEXI NIETO/MERLINE LAMOUR
Professor Parachute and the Rubik's Cube……….ALEJANDRA LOZANO/GRACIE HANCOCK
Stephanie…………………………………………………….ASHLYN BRADSHAW
Doris…………………………………………………………..HILDA DELGADO
Kevin………………………………………………………….GABY MENDEZ
Kyle…………………………………………………………….MICA WILEY
Volleyball Players…………………………………………AMANDA BELL, MEGAN GLOGOWSKI, REBECCA PARRILLO, MAGGIE BREKKA, JESSICA VILLA
About the Contributors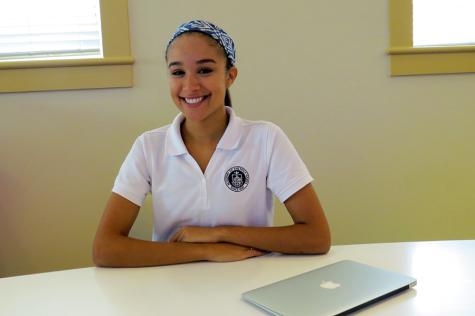 Rachel Anderson, Sports Editor
Senior Rachel Anderson has been on Achona since Sophomore year. She attended the CSPA Convention in the fall of 2013 where she presented a workshop on...
Vallie Joseph, Video Editor


Vallie Joseph, a techie maven who has taught herself Adobe Premiere, enrolled in Honors Journalism on January 17.   Vallie will fill in the...