Coastline: it's not Bonnaroo, but it's close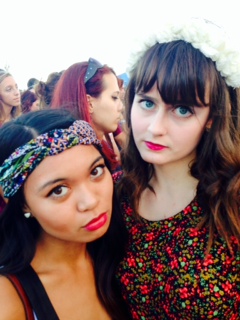 Coastline Festival, when I first heard about it, it was as if all of my indie pop band dreams had come true. Having caught just a briefing of the lineup on the radio (which included some of my favorite bands such as Passion Pit, Two Door Cinema Club, Matt and Kim, Surfer Blood, etc.), I knew there was no way this event was happening in Tampa. For the past four years, my favorite bands such as these had been congregating at festivals across the U.S.
Whether it be Bonnaroo, Austin City Limits, or Coachella, but being that none of these are held in Florida I found myself staring at twitter updates and living vicariously through the people who were in fact attending. I quickly Google searched "Coastline Festival" wishing hopelessly that these bands would be congregating in Tampa for once. Quick research revealed that the Coastline was in fact occurring in Tampa, at the Amphitheatre, only about half an hour from my house. Naturally I was overfilled with joy. I quickly purchased tickets in the pit, because I can handle a little moshing at a concert, especially one such as this.
After weeks of anticipation, it was suddenly November 9th. Naturally my main concern was what I'd be wearing. I pulled about fifteen items from my closet ranging from maxi dresses to leather leggings, but settled on a floral print mini, sandals, bangles, and a flower crown.
(I know, how cliché), but how can I pass up an opportunity to wear a flower crown and channel my inner Lana Del Rey? My friend and I arrived at the amphitheater around 3:30 to find the festival in full swing. My initial impression was that the crowd was dressed indie clad, thick glasses, faux leather, hippie bands galore. Also, a surprising amount of gingers, questioning the authenticity of their hair color despite the fact that they were mostly males.
Of the bands performing, the last three stole the show. Matt and Kim blew me away. The duo had a stage presence unlike any other group I've seen. Talking bluntly about their relationship with one another, standing up on their instruments while performing, and blaring and singing along to popular rap songs such as "Bugatti" between their songs, they kept me (and I'm pretty sure all of the audience) completely captivated. Pretty much they're my new favorite couple.
Next was Two Door Cinema Club, who I've seen once before. I forgot how incredible they are. They captivate live, with their vocals and instrumentals coming through just as clear as their recordings. Last came Passion Pit , to say I love Passion Pit is an understatement. So I must admit that my opinion comes with some bias. Michael Angelakos (lead singer) has the indietronica voice of an angel, and the lyrics…poetry.
Essentially, Coastline was the peak of my concert going life so far. Now to convincing my parents to let me go to Bonnarroo. But really, if they host Coastline next year, I encourage all of you music enthusiasts to partake in the fun.
Leave a Comment
About the Contributor
Khalei McKown, Senior Columnist
Khalei McKown's hobbies include acting, sleeping, and underwater basket weaving.  Her favorite flavor of ice cream is ginger, and she enjoys hanging...