NYFW Fall 2014
It's that time again, when I will inevitably spend all of my spare time live streaming fashion shows and crying knowing that I will (a) probably never own any of these clothes and (b) that even if I did I wouldn't look as chic as the models and editors who trot around New York wearing them. A girl can dream though, and dream I will. This February's fashion week, showcasing next year's fall collection per usual brought forth some breathtaking clothes, as well as some interesting surprises within the industry.
This New York Fashion Week marked a big transition as several designers chose to showcase their collections away from Lincoln Center (where it has been held since 2010 when it outgrew its Bryant Park venue). Financial concerns with the cost of showing as a part of Mercedes Benz fashion week were cited as the main cause for this transition. So spectators of more than one of these fall 2014 collections found themselves hopping across all areas of Manhattan, with some designers even showcasing in Brooklyn (personally I'd travel for Alexander Wang). It should be interesting to see what becomes of Lincoln Center next season.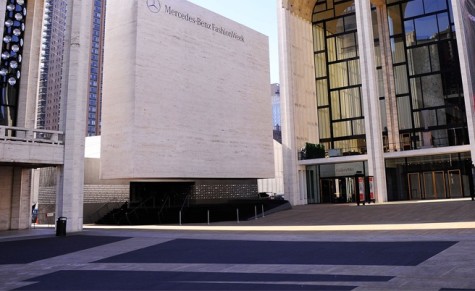 Perhaps the most talked about show was Marc Jacobs, but not because Marc himself is the king of New York. Rather, it was notable for Kendall Jenner's boobs (pictured below, right). For those of you who make good use of your time and don't spend time closely following the life of the Kardashian clan then you probably have no idea what I'm talking about. Essentially the eldest of Bruce Jenner and Kris Kardashian's offspring made her fashion week debut walking the Marc Jacobs show in a very sheer sweater. I love Marc, but Kendall Jenner didn't win me over, this showing from Fall 2014 left me longing for more. While I loved the geometric hair, and the vibe of the girls, I was left wondering if the pieces themselves (excluding a few wonderful outerwear pieces) would have the same powerful effect on their own. Maybe more color and less nip slips next season Marc?
A milestone was reached this New York Fashion week for designer Diane Von Furstenberg. She invented her iconic wrap dress a decade ago in 1974. Her collection clearly reflected this milestone. Her show ended in a series of gold wrap dresses celebrating the anniversary and her signature dress. Titled "Bohemian Wrapsody," the looks were just that, a true embodiment of what is DVF. The dark rich fabrics combined with the colorful embroidery and patterns created what I think is quite simply what any girl or woman would want to wear. Chic, feminine, and fun. Congrats to Diane!
Additional personal highlights, notable eye candy: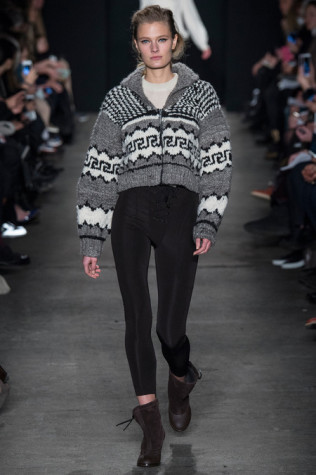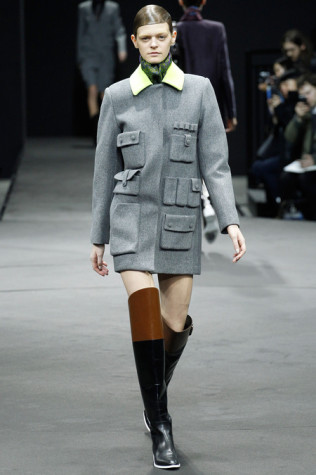 Fall 2014, an exciting showing of collections marked by changing venues, anniversaries, Kendall Jenner's 18 year old boobs, and some pretty rad clothes. Hoping for just as much and more from London, Paris, and Milan.
Leave a Comment
About the Contributor
Khalei McKown, Senior Columnist
Khalei McKown's hobbies include acting, sleeping, and underwater basket weaving.  Her favorite flavor of ice cream is ginger, and she enjoys hanging...