The Journey "Into the Woods"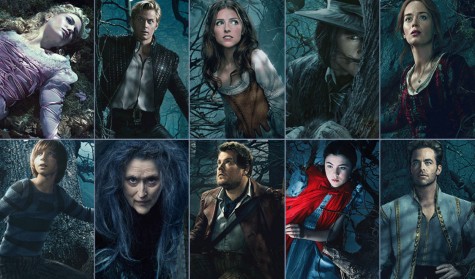 Stephen Sondheim and James Lapine's musical Into the Woods has come to life on the big screen, thanks to director Rob Marshall and Walt Disney Studios Motion Pictures. The musical fantasy features an ensemble cast including  Meryl Streep, Anna Kendrick, Johnny Depp, Emily Blunt and Chris Pine. The story is a crossover inspired by the Grimm Brothers' stories: "Little Red Riding Hood", "Cinderella", "Jack and the Beanstalk", and "Rapunzel." Viewers follow the events of a young couple that set out into the woods to undo an old witch's curse. They meet other characters along the way, that create the plot's modern crossover.
The actors and actresses were perfect fits for their characters. Meryl Streep did an outstanding job (as usual) being the witch throughout the movie, and both of her stunning costumes were an added plus. James Corden and Emily Blunt were a great duo as the typical bickering married couple. Chris Pine excellently portrays the arrogant, two-timing and spoiled young prince. Johnny Depp's role, although short, was definitely the most interesting – and dark. Depp plays the "big, bad wolf", sneering at Little Red Riding Hood while following her to her grandmother's house. Depp gave the woolf a creepy persona, while being a little bit of a predator.
The movie "Into the Woods" is an exciting and magical adventure. The clever modern crossover gives the audience a whole new experience, with the perfect cast and beautiful music. Not only does the movie contain top notch set design, but it also features showy costumes and gorgeous makeup. Some themes, like toe chopping and a death, may be too dark for kids, and parents may find their children bored halfway through the film. Nevertheless, "Into the Woods" is a lively modern fairytale that has made it to the top of the box office.