Second Semester: Teacher Stress
First semester has passed and second semester has arrived so fast. We
all know the stresses of having to write a 10 page paper, but how do
the teachers feel that they have to grade a 10 page paper…all 100 of
them? Stressed as students is often talked about, but how do teacher's
feel? The most important thing to remember is that defeating stress
isn't about an individual, it's about the whole school. If you think
in this manner, stress can be overcome easier and more successful.
The Huffington Post released an article explaining how teachers being stressed causes a
problem in learning in classrooms. "They [teachers] are less likely to
build the kind of positive, caring relationships with their students
that form the emotional core of the learning process." Teachers are a
big part of the advancement in learning and attitudes of their
students.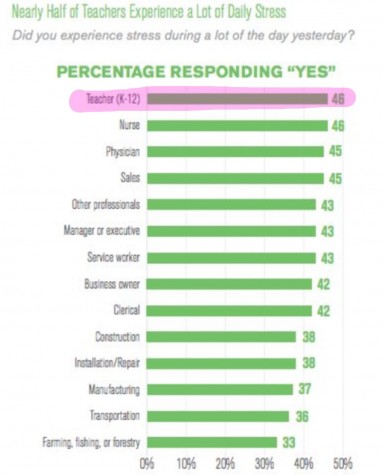 Academy teachers and staff have shared their input on their thoughts
of second semester.
"Is it summer yet? " -Dr. O
"I like first semester better because it's not as busy but I like the
amount of days we get off. I'm so excited for summer." -Mrs. Henry
"Second semester is so hectic and it's all over way too fast. I'm
always ready for summer." -Mrs. Swafford
"Second semester is easier because students are now used to the format
of the classes, but I'm 100% ready for summer." -Mr. Ruano
"I feel the stress for seniors and the stress of the faculty growing
more and more, but I'm not too stressed out too much." -Mrs. Buono
"No I'm not too stressed out I like getting into the fun stuff." -Mrs. Quire
"I'm not stressed out, but I'm not even thinking about summer yet
though there's too much going on right now." -Mr. Sloshberg